Description
**Expo Early Bird Discount!**
Save $50 on your table purchase if you register by 2/28/2019 11:59PM.


---
Philly Startup Leaders' Entrepreneur Expo is the largest annual showcase of tech companies in Philadelphia. Entrepreneur Expo has been an official event of Philly Tech Week, presented by Comcast, since it's launch 9 years ago. We are thrilled to announce that the 2019 Expo will be our biggest yet!
On May 8, 2019 - PSL will showcase 140 Philadelphia tech companies at The Fillmore Philadelphia.
If you are a tech-based company in the Greater Philadelphia Area, you don't want to miss this opportunity to demo your product and highlight your business to 1,500+ potential consumers, investors, supporters, and other community stakeholders.
Stick around and join us on the mezzanine for the Expo After Party (8-10pm)! It's free to attend, you don't have to relocate anywhere, and you can even pre-purchase additional food and drink tickets for your team!
Your purchase includes:
Table or Booth package of your choosing (see tickets for details)

Access to wifi, power, and a black table linen for your exhibitor table.

Company Listed in 2019 Expo Booklet

1 Food and 1 Drink Voucher per table representative (equal to # of chairs provided in your package)

Company linked on the PSL Entrepreneur Expo webpage, helping increase your SEO score!
Qualifying companies must...
Be headquartered and/or have an office within the Greater Philadelphia Area.

Offer a technological solution, service, or platform as a core product. At minimum, must use technology at the core of their business strategy (example, e-commerce companies).
Scholarship Tables Available! The PSL mission is to help current and future founders succeed in Philadelphia and beyond. In an effort to achieve this mission, we offer limited scholarship opportunities for all events and programs. This opportunity is to lower the financial barrier for early-stage startups and individuals from underrepresented groups who may not be able to participate otherwise. Does this sound like your tech startup? Apply for a scholarship table at Expo 2019.
Exhibitor Tables will be available for purchase until 4/1/2019.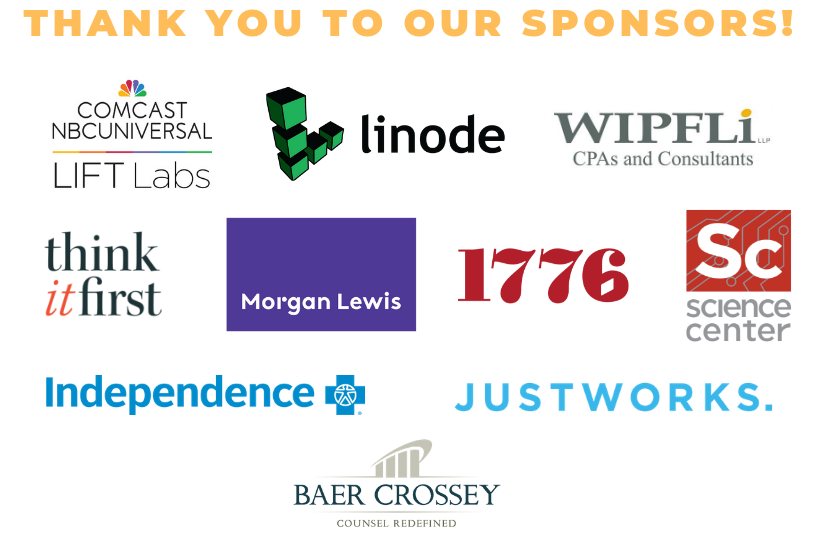 Our Sponsors
Linode | www.linode.com
Comcast NBCUniversal LIFT Labs | lift.comcast.com
Wipfli | www.wipfli.com
Think It First | thinkitfirst.com
Morgan, Lewis & Bockius | www.morganlewis.com
1776 | www.1776.vc
University City Science Center | sciencecenter.org
Independence Blue Cross | www.ibx.com
Baer Crossey McDemus | www.baercrossey.com
Justworks | justworks.com


Sponsorship packages starting at $1,000.


---

No refunds.
If your company is no longer available to participate in Entrepreneur Expo 2019 after purchasing an exhibitor table, the table your company purchased will be made available as a scholarship table and will be offered to a local tech startup who would otherwise not be able demo at the event.
If PSL determines your company is not eligible to demo at Entrepreneur Expo (due to a lack of technology element), a refund will be issued and the table will be re-sold. If you are not sure if your company qualifies, please ask The PSL Team at engage@phillystartupleaders.org.


---

Check out the main event!
Share it with your friends, purchase additional Food & Drink Ticket Bundles for your team, and/or make a tax-deductible donation to PSL (we are a 501(c)(3) nonprofit organization!) at entrepreneurexpo2019.eventbrite.com.