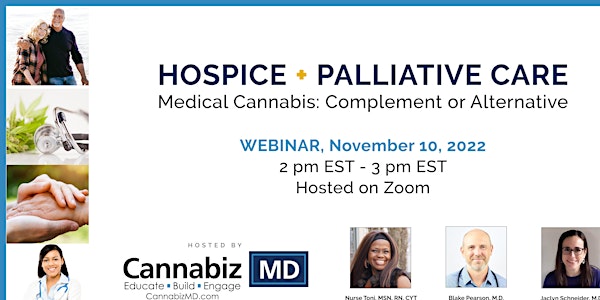 Hospice + Palliative Care: Medical Cannabis Complement or Alternative
U.S. medical cannabis professionals discuss cannabis as a complement or alternative treatment for adult patient hospice and palliative care.
About this event
Considered to be the model for quality, compassionate care for people facing a serious or life-limiting illness or injury, hospice care involves a team-oriented approach to expert medical care, pain management, and emotional and spiritual support expressly tailored to the patient's needs and wishes. Patients with life-ending and shortening diseases suffer symptoms of chronic pain, nausea, and anorexia. Evidence continues to evolve regarding the role of medical cannabis to treat these symptoms and improving the quality of life for hospice and palliative care patients.
Unfortunately, patients and their caregivers are receiving little information or support from healthcare providers regarding the increasingly popular use of medical cannabis or, cannabinoid-based medicines (CBM) for symptom relief. Providers are perplexed by the lack of available evidence-based research on CBM and the increased interest patients and their families have in CBM.
Hosted by CannabizMD Founder/CEO Jacquie Cohen Roth, MS, "Hospice + Palliative Care: Medical Cannabis Complement or Alternative" is a webinar for medical cannabis providers, patients, caregivers, and medical cannabis industry professionals. There will be a Q + A session with webinar attendees and panel members.
Medical Cannabis Expert Panel Members:
Nurse Toni is an RN, wellness practitioner, thought leader, educator, and advocate for cannabis health equity in underserved communities.
Nurse Toni has over 30 years of experience in healthcare, specializing in pediatrics, preventative wellness, and community health initiatives. She's a long-time cannabis user who, during college, found relief through cannabis for her anxiety, depression, and eczema. After embracing the power of cannabis and alternative medicine while recovering from personal and work-related traumas, Toni recognized an opportunity to use her healthcare credentials and experiences to help others reap the benefits of cannabinoids and other preventative wellness therapies.
Moving to California to pursue cannabis education, product development, and consumer research, Nurse Toni noticed a knowledge gap in adult recreational users and youth prevention in underserved communities where many dispensaries reside. As a member of the Association for Cannabis Health Equity and Medicine (ACHEM) and the National Cannabis Industry Association, she is a member of the education committee and a health equity working group for sustainable and equitable cannabis health policies in underserved communities.
Toni believes medical and adult recreation users in underserved communities deserve cannabis equity through access, education, and resources, to avoid a repeat of the War on Drugs.
Jaclyn Schneider, M.D., is a double board-certified physician in Internal Medicine and Hospice and Palliative Medicine. She served as President of the American Academy of Hospice and Palliative Medicine Veterans Special Interest Group. She recently handed over the reins to Hospice and Palliative Medicine Fellowship where she was the Program Director from 2017-2021 at the Jacobs School of Medicine. Dr. Schneider still maintains her appointment as Clinical Assistant Professor of Medicine, Division of Geriatrics and Palliative Medicine at the Jacobs School of Medicine.
Since 2018, Dr. Schneider has certified hundreds of patients from across New York in the medical cannabis program. She is passionate about health and wellness through the use of cannabis as her own husband has consumed it for 20+ years for his PTSD with excellent results. Once licensing opens for adult use retail dispensaries, Dr. Schneider and her team hope to open a dispensary in the Southtowns of Western New York.
Blake Pearson M.D. is the founder and medical director at Pearson Health and an internationally recognized leader in the field of cannabinoid-based medicine. He is also a passionate educator and the founder of Greenly Health, which helps healthcare practitioners further their understanding and integrate cannabinoid-based medicine into daily practice.
Dr. Pearson has provided mentorship and training for over 1000 fellow practitioners around the world and has extensive expertise using cannabinoids to manage conditions ranging from chronic pain, insomnia, and anxiety to traumatic brain injuries, treatment-resistant epilepsy, and autism spectrum disorders that have not responded to other therapies. He also has significant experience in long-term care—specifically helping to manage responsive behaviors associated with dementia and using cannabinoids to reduce polypharmacy.
Dr. Pearson was previously the Primary Care Lead for the Erie St Clair LHIN's Mental Health, Addictions and Opioid Reduction Strategy and is a principal investigator on several current research projects. He is also a passionate advocate for improving access to medical cannabis through wider public and private insurance coverage and launched The #CoverCannabis Project in 2021.
Proceeds of CannabizMD programs support the non-profit Tea Pad Foundation and The Tea Pad Fellowship Program which is focused on advancing women and people of color in cannabis STEM (science, technology, engineering, and medicine).
CannabizMD Refund Policy: Refunds will only be made in the event of a CannabizMD cancellation without prior notice to ticket purchaser(s).