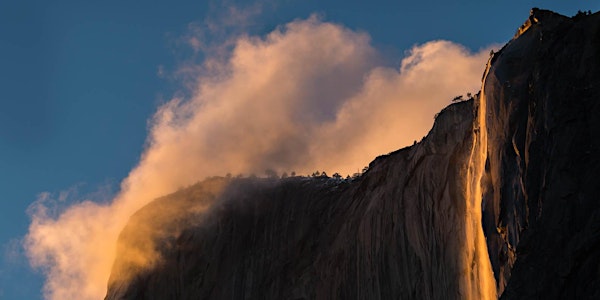 Horsetail Fall Private Vehicle Parking Permit Reservation
When and where
Location
Permits must be picked up at The Ansel Adams Gallery 9031 Village Drive Yosemite National Park, CA 95389
Description
ALL VEHICLE PARKING PERMITS HAVE BEEN TAKEN.
However, at least 50 additional permits will be available each day at the Ansel Adams Gallery (anseladams.com) on a first come, first served basis.
Even if you don't have a reservation, you can still experience this remarkable phenomenon.

Viewing areas are within walking distance of Yosemite Valley Lodge (accessible by shuttle bus) and El Capitan (limited parking), and, depending on how ambitious you are, points further east or west.
Yosemite Hospitality will be running special interpretive tours each day of the event.
More Information & FAQs
For more information on Horsetail Fall from the National Park Service - Yosemite

------------------
In light of the growing popularity of the Horsetail Fall sunset phenomenon, known colloquially as the natural firefall, to provide a better visitor experience, and to address safety concerns, the National Park Service will be managing vehicular traffic on Northside Drive in Yosemite Valley. From February 12 to 26, Northside Drive between the Yosemite Valley Lodge and El Capitan Crossover will be closed to unpermitted private vehicular access and parking. If you wish to experience this event, you may walk to viewpoints, take guided tours with Yosemite Hospitality, or obtain a parking permit for this portion of Northside Drive. Reservations for 250 parking permits are available online on this site.
The reservation is not a permit. If you make a reservation on this site, you must pick up your parking permit at The Ansel Adams Gallery in Yosemite Valley on the day reserved.
Reservations are free and limited to one per vehicle per day. If you want reservations for multiple vehicles or multiple days, you must make multiple reservations. Reservations are available through this site until 8:30AM on the day of the permit, each day of the event.
Registering for a reservation will require vehicle information including:
license plate number

make

model

color.
Please have this information handy before you begin. If you will be visiting Yosemite in a rental vehicle, please check the "Rental" box on the registration form and be sure to bring your rental car contract with you when you pick up the permit.
At least 50 first-come, first-serve permits will be available daily at The Ansel Adams Gallery until 3 PM.
If you do not have a parking permit, you will be able to reach viewing areas on foot. Guided tours are available through Yosemite Hospitality (reservations required).