Description
A WISE COUNSEL CIRCLE RETREAT
Soft and strong, each creature is our teacher.
Explore your dynamic trust through mirror sessions with our amazing equine partners.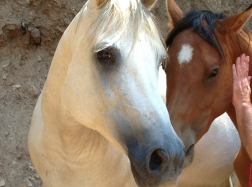 Deepen your sense of
trust in yourself and the world to build
confidence in your path. Featuring Eagala Equine Assisted Learning Sessions with Change Your Lead.
Allow the horses to help you explore trust.


Developing trust

Deepening relationships

Fostering collaboration

Labyrinth work

Somatic Yoga

Eagala Equine Assisted Learning Sessions

with Dr. Angela Sherman, Ph.D and Change Your Lead

WHY HORSES?
Read Angela's introduction to how equine partners can teach us

---
Cost: $250 contribution

Early registration by 7/7 = $225

Contact svcdavies@gmail.com with any questions

Open to all - male and female, young and old

Please bring a journal, pillows or bolsters for your own comfort and healing.

No previous yoga experience is required, gentle restorative postures will be introduced and are optional.

Activities include equine sessions, labyrinth walks, journey work, sharing in circle and small groups

Sneakers or other comfortable walking shoes are recommended
---
Why Metis?
Metis was the daughter of Oceanus, consort of Zeus and mother of Athena. Metis translates as a quality that combines wisdom and cunning, and she came to be known for her wisdom, prudence, and wise counsel.
We create circles of wise counsel whenever we gather together and share our authentic selves - our vulnerabilities and our talents, our learning curves and our strengths.
All retreats are designed and intended to inform and nurture the spiritual, mental, emotional and physical bodies through jungian/somatic expressive arts and the perennial wisdoms of the four fold way.
2018 Metis Gathering Retreats
Jan 27-28 = Blue Moon
April 28-29 = Root Down
July 28-29 = Dynamic Trust
November 4 = Acceptance & Equanimity