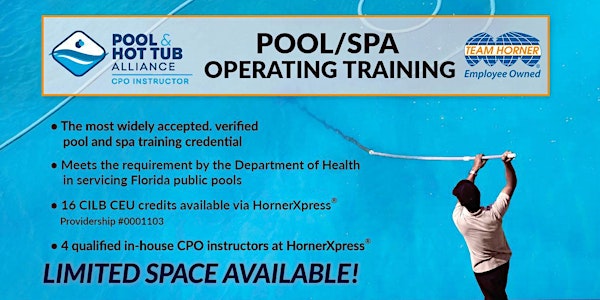 HornerXpress® PHTA Certified Pool/Spa Operator Training (Palm Beach)
When and where
Location
HornerXpress® Palm Beach 6811 Garden Road West Palm, FL 33404
Description
The world's most recognized pool and spa training program, it is required for operators of pools that are open to the public. The CPO course is also open to professionals interested in gaining a comprehensive understanding of pool balance and equipment function.
Two ways to get CPO Certified:

2 Day Class at HornerXpress

®

CPO Certification Blended Training: CPO Blended Training + CPO Primer = CPO Certified
Pool Operator Fusion™
This one-day class is offered by our certified PHTA® Instructors at HornerXpress and is an economical and convenient way to achieve the CPO® Certification. This one-day class can either be the second day of any two-day classroom certification course, or it can be a stand-alone one-day Pool Operator Fusion™ class.
Sign up for a Fusion class by selecting which date you would like to complete the in-classroom portion and examination. Students must present a Pool Operator Primer™ Record of Completion and successfully complete the Pool Operator Fusion™ in-classroom to obtain a CPO® Certification within six (6) months of enrollment.
Pool Operator Primer™
This online training program is the first step to earning CPO® Certification via Pool Operator Fusion™ This online curriculum follows the 18 chapters in the PHTA® Pool/Spa Operator™ Handbook, which is provided via mail or pick up at HornerXpress. Students have access to the Pool Operator Primer online course for six months, which gives them the opportunity to review the material many times.
Successful completion of the Pool Operator Primer earns a Record of Completion, but is not a CPO Certification required by the Florida Department of Health. If you choose to pursue the CPO® Certification, contact Laura Castanza or go to a CPO Fusion link to enroll in a Pool Operator Fusion™ class of your choice within six months of completing the Pool Operator Primer.
DATES:
Friday, April 3 (8AM-6PM) & Saturday, April 41 (8AM – 2PM)
INSTRUCTOR:
Susan Russell

Lunch will be provided.