Description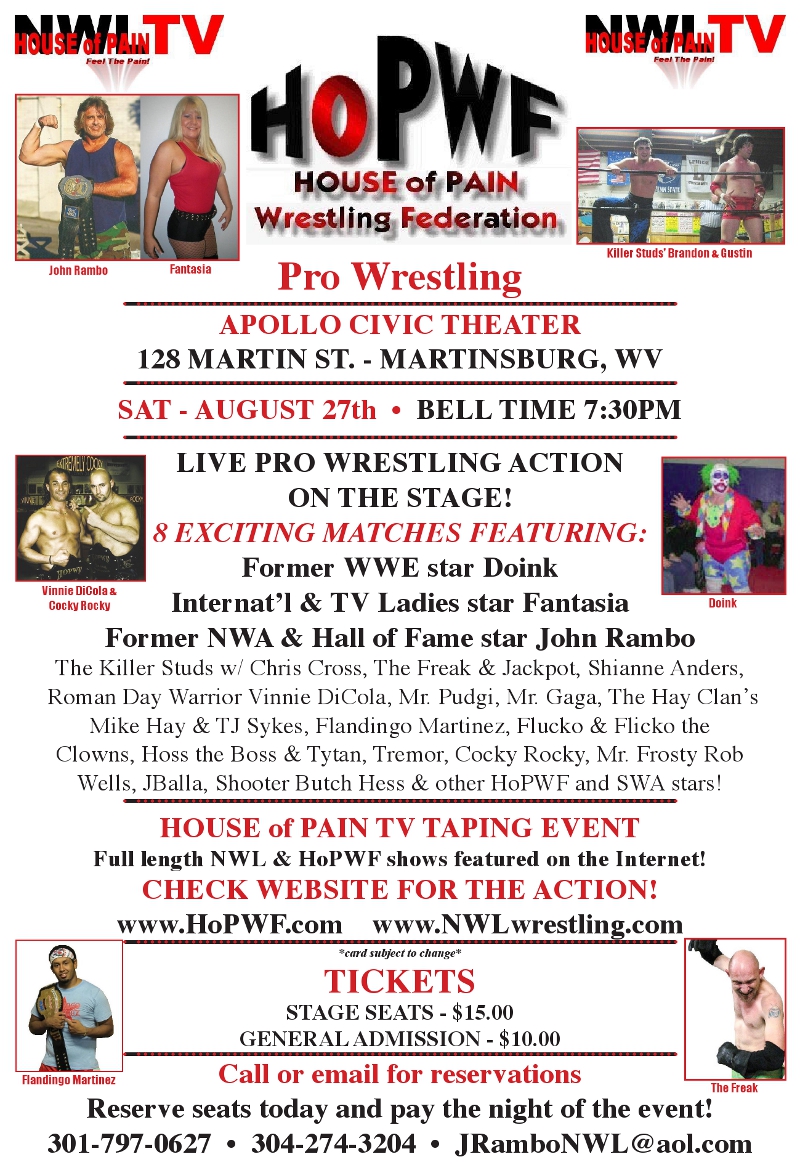 August 27, 2011 - HoPWF MAKES IT'S RETURN TO THE APOLLO THEATER IN MARTINSBURG, WV., WITH FANTASIA, JOHN RAMBO, DOINK - The HoPWF will be returning to the historic Apollo Theater in downtown Martinsburg, WV, on Saturday, 8-27-11. Signed for this event are former NWA Tag Team Champion & New England Pro Wrestling Hall of Fame star John Rambo, International & TV womens wrestling star Fantasia, Doink, the Killer Studs w/Chris Cross,
...
The Freak & Jackpot, Shianne Anders, Roman Day Warrior Vinnie DiCola, Mr Pudgi, Mr GaGa, The Hay Clan's & SWA owner Mike Hay & TJ Sykes, Flandingo Martinez, Flucko & Flicko the Clowns, Hoss the Boss & Tytan, Tremor, Cocky Rocky DiCola, Mr Frosty Rob Wells, J-Balla, Shooter Butch Hess and stars from the HoPWF and SWA.
Bell time is set for 7:30PM and reservations are now being taken, Ringside stage seats are $15.00, and theater floor seats are $10.00. Fans can reserve seats at any time and pay for them the night of the event. Email
JRamboNWL@aol.com
or
killerstuds@frontier.com
or call 301-797-0627 or 304-274-3204 for seat reservations.