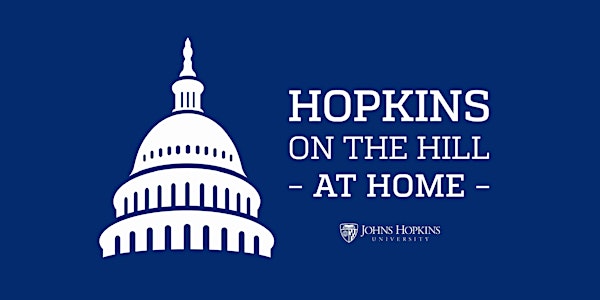 Hopkins on the Hill at Home
Spend each week hearing from one of Johns Hopkins' premiere researchers and dive into some of the hottest research projects around!
About this event
Hopkins on the Hill is a biennial showcase of the range, value, and impact of federally-funded research and programming at Johns Hopkins University. This year, we're taking our science into your homes and on your screens. Hear from early career researchers and practitioners to learn about their work in tracking and combatting COVID-19, education, space exploration, health care, extreme materials, climate change, and more!
Want to help? You can support student research at Hopkins by making a gift to our Student Research Fund.
The Full Schedule | Noon-1 PM ET
May 5, 2021 | How Does Federal Research Funding Work?
May 12, 2021 | How Do We Redirect an Asteroid?
May 19, 2021 | How Will Extreme Materials Save the World?
May 27, 2021 | How Can We Support People Who Want to Age at Home?
June 2, 2021 | How Do Researchers Partner with Indigenous Communities to Improve Health and Well Being?
June 9, 2021 | How Do You Prepare for A Highly Infectious Disease?
June 16, 2021 | How Can Weather Prediction Save Lives and Money?
June 23, 2021 | How Can We Address Educational Disparities Exacerbated By COVID-19?
June 30, 2021 | How Do You Track A Pandemic for the Entire World?