Description
Online registration is now closed.
You may still register in person at HopeWell through 2pm, Saturday, April 22nd, or on Race Day, April 23rd at Goucher beginning at 7:00 am. We look forward to seeing you there!
---
REACHOUT & RUN Annual 5K Run/Walk and 1-Mile Walk with Hope
20th Anniversary Celebration!
The most historic race in town for people with all kinds of cancer – and their loved ones.

The Story of Our Race
They said it couldn't be done…..
20 years ago we started this race for people with any kind of cancer and their loved ones. Some told us it would be too hard to set up, too complicated, too challenging financially. And here we are, 20 years later, ready to do it again.
Baltimore race legend Dave Cooley was there at the beginning, along with his friend Larry Kimmel. They'll be there again on April 23rd as REACHOUT & RUN launches its 20th anniversary celebration.
We're expecting 1,200 participants this year, so be sure to join in for HopeWell!
Event Highlights
Friendly fundraising rivalry among teams.
High-level prizes for runners in many different categories.
Family-friendly activities, including photo booth.
Inspirational program hosted by Brett Hollander, radio and TV sportscaster
Veteran teams that have been in this race from the start!
REGISTRATION:
ADULT
$30 - Online Registration through Monday, April 17th (closes at 11:59 pm EST)
$35 - Paper Registration Through Saturday, April 22nd (drop off at HopeWell)
$40 - Race Day Registration on Sunday, April 23rd (onsite at Goucher)
YOUTH 18 and Under
$15 - Online
$15 - Paper Registration Through Saturday, April 22nd (drop off at HopeWell)
$15 - Race Day Registration on Sunday, April 23rd (onsite at Goucher)
RACE DAY SCHEDULE AT GOUCHER:
7:00 AM / On-Site Registration and packet pick-up (cash, check or charge)
8:30 AM / 5K Run and Walk
8:35 AM / 1-Mile Walk with Hope
9:30 AM / Ceremony & Awards

AWARDS FOR RACE TIME BY AGE:
10 and under
11-15
16-19
20-29
30-39
40-49
50-59
60-69
70-79
80 and over
Supplementary Awards:
Highest Fundraiser
Top Overall Cancer Survivor

---

Packet Pick-ups:
Teams of 20 members or more
Thursday, April 20th
@ HopeWell Cancer Support, 12-6pm
10628 Falls Road, Lutherville, MD 21093
Teams Only - Friday, April 21st
@ Charm City Run in Timonium, 3-6pm
2045 York Road, Timonium, MD, 21093

Individuals and Team of 20 or less
Saturday, April 22nd
@ HopeWell Cancer Support, 10-2pm
10628 Falls Road, Lutherville, MD 21093

Individuals and all teams - Race Day Sunday, April 23rd @ Goucher College, Starts at 7am
1021 Dulaney Valley Road, Towson, MD 21204

Course Information:
The course will complete a loop through the campus and then continue through the surrounding neighborhoods. It is a scenic course that winds through the college campus and surrounding neighborhoods, while not flat the change in terrain will challenge any level of participant.


Please no roller blades, skates, bikes, dogs pets, or headphones allowed on the race course.
_____________________________________________________

What does HopeWell do?
HopeWell supports 1,200 participants each year – those affected by cancer, their families, caregivers and friends – who can come as often and as long as they wish.
All programming is offered at no charge because…
A cancer diagnosis, treatment and survivorship are financially devastating.

We are a community of care and a community of equals. We are people with cancer, their loved ones, professionals from many fields, donors and other committed friends, all dedicated to the well-being of HopeWell participants.
______________________________________________
What Happens at HopeWell?
125 calendar offerings each month:

Support groups facilitated by licensed and experienced social workers.

Educational presentations and discussions led by experts in the oncology field.

Exercise, meditation and gentle movement classes.

Programs for children who have a loved one with cancer.

Expressive arts classes.

Informal conversations around our kitchen table and walks around our beautiful grounds.

Social gatherings celebrating the life of the community.
---
How Can You Help?

START A TEAM …. JOIN A TEAM ….or simply donate to the race.

Whether you're a team captain or a team member, you can still raise money! How?
Post a donation link to Facebook and send it to your friends. Ask them to share it

!

Send an email to your friends, with a donation link.
Mention the race everywhere you go.
Send us your picture and we'll put your story and donation link on our Facebook page if you want us to.
Remember – you're not asking for yourself, you're asking for HopeWell.


THANK YOU TO OUR REACHOUT & RUN SPONSORS!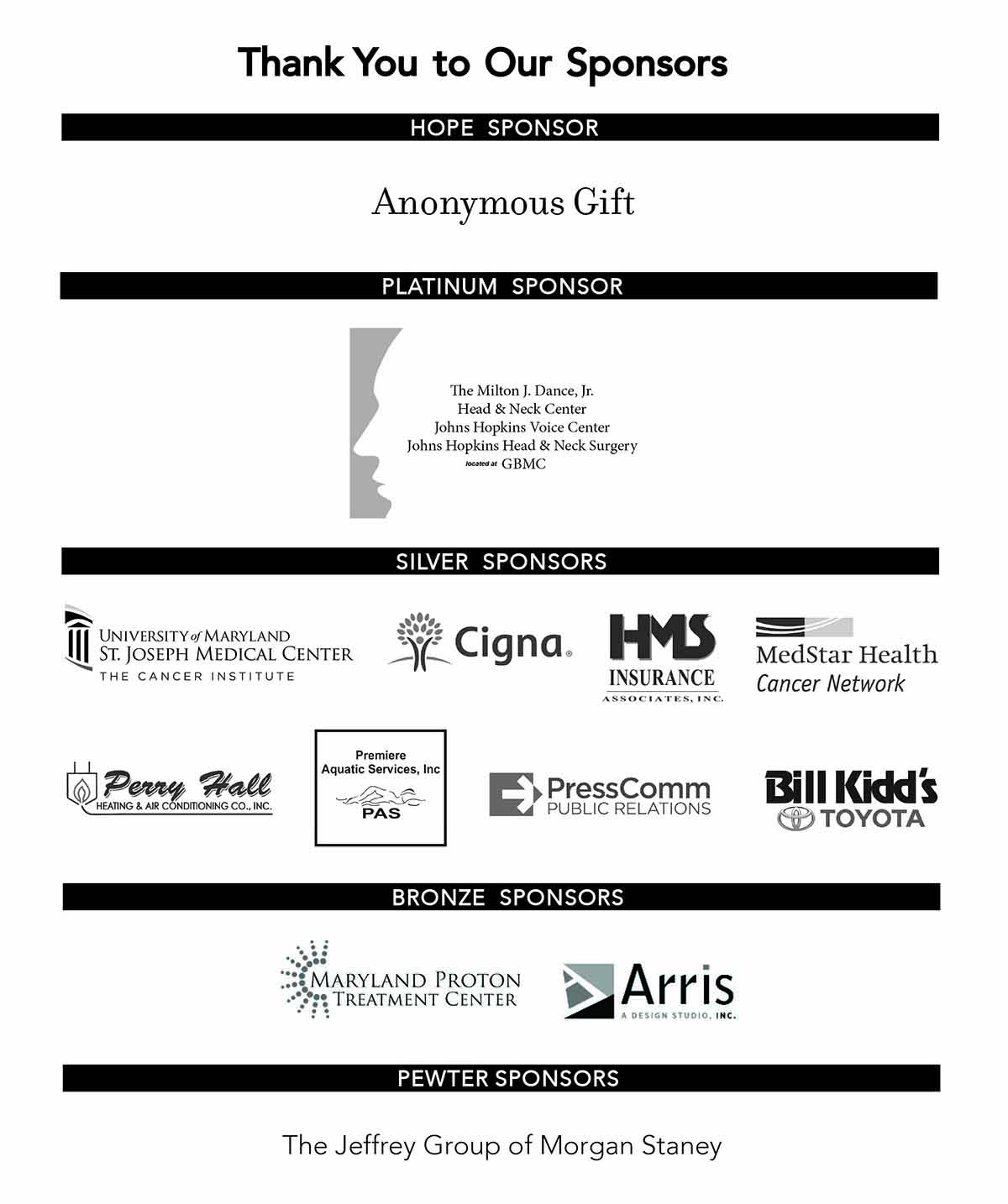 "Like" us on Facebook for our frequent updates and stories of participants – why they run, why they walk, why they raise money for HopeWell.
All money raised goes to HopeWell, a local, independent nonprofit.