Event Information
Location
Urban Greens Co-op Market
93 Cranston Street
Providence, RI 02907
Attend Hope's Harvest RI's first volunteer orientation! Learn more about the organization and ways to support our mission
About this event
With the help of our dedicated volunteers, Hope's Harvest RI rescued 36,000 lbs of fresh fruits and vegetables from local farms in 2018 for our neighbors in need and we are well on our way to doubling that in our second season. But we couldn't do this work without YOUR commitment and engagement!
Come to our first ever volunteer orientation to learn about the big picture behind Hope's Harvest RI's work and how YOU can contribute to ensuring that all Rhode Islanders have access to fresh, healthy, local produce.
Get empowered and inspired, while learning about concrete ways to get involved - both on and off the farm. Hope's Harvest RI volunteers get to engage in meaningful, impactful activities, while socializing with other civically minded folks and getting some fresh air and exercise. We have many opportunities for volunteers to engage, including harvesting, rescuing food from farmers markets, serving as outreach ambassadors, planning special events, and more.
Come enjoy FREE light snacks and explore the new Urban Greens Co-Op. Hot and cold bar selections will be available for purchase.
***First 3 sign ups receive a free Hope's Harvest Hat!****
If you have questions, comments, or concerns, email ruth@hopesharvest.org.
Sign up for our mailing list or register to volunteer.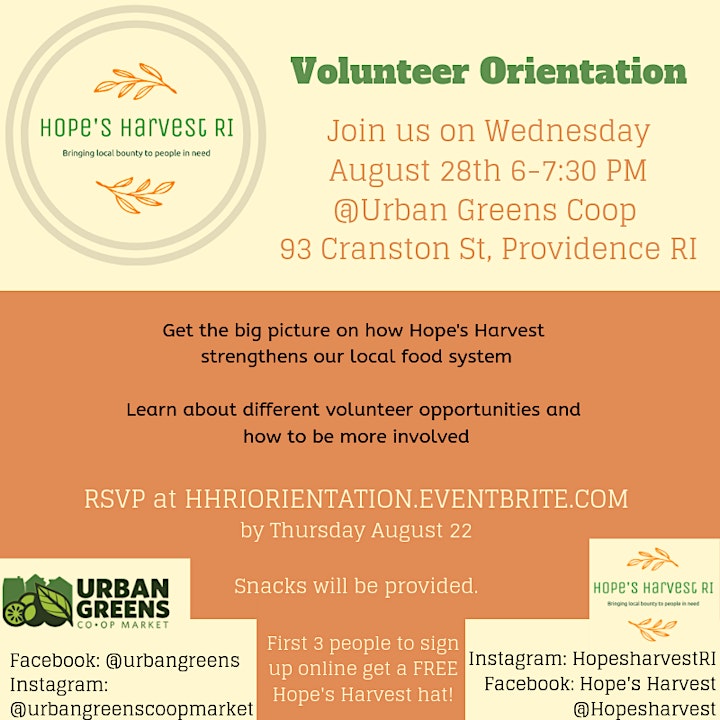 Date and time
Location
Urban Greens Co-op Market
93 Cranston Street
Providence, RI 02907