Join us for sweets and treats as we celebrate BTS J-Hope's birthday for this 2-weekend cupsleeve event!
About this Event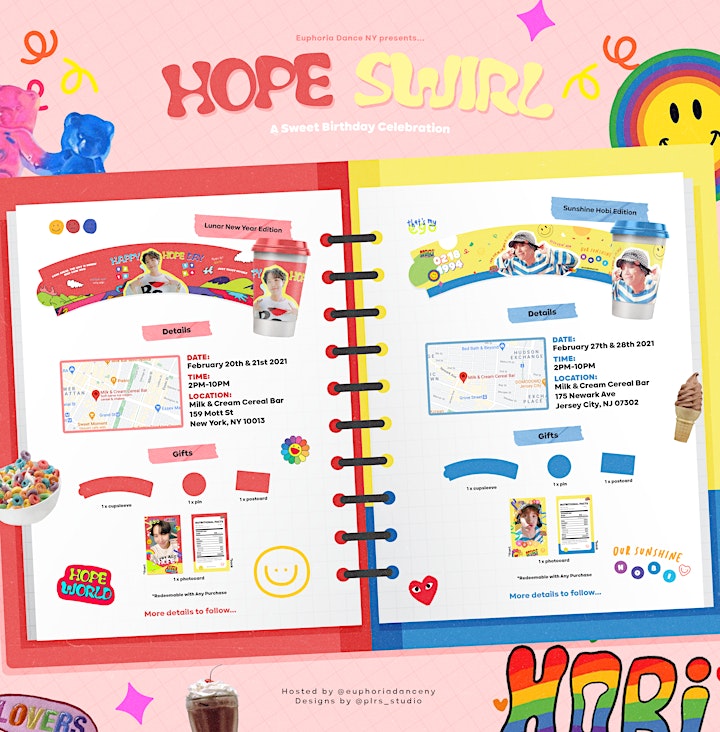 Euphoria Dance NY Presents...
🍦Hope Swirl 🌈
A Sweet Birthday Celebration
Hosted by @EuphoriaDanceNY 💜
Designed by @plrs_studio 💙
2 Locations! 2 Cupsleeve Set Designs!
🍦 1 order = cup sleeve + photocard + pin + postcard⁠
LUNAR NEW YEAR EDITION
📌 Milk & Cream Cereal Bar, Chinatown, NYC 🏮
🗓 February 20-21, 2021
⏱ Sat & Sunday 2PM-10PM
&
SUNSHINE HOBI EDITION
📌 Milk & Cream Cereal Bar, Jersey City, NJ 🌈
🗓 February 27-28, 2021
⏱ Sat & Sunday 2PM-10PM
Featuring…⁠
☀️ Hobi-Themed Mini Stations
⁠📸 Photo Ops⁠
⁠🎶 All-Day BTS Music⁠
⁠🛍 Merch⁠
⁠🎁 Goodie Bags & Raffle GA⁠
Event Information & Safety Guidelines:
Helpful Tips on How to Stay Safe and Enjoy Your Visit During Our Event
⁠-Bundle up and dress warmly
⁠-Wear your mask and keep 6ft apart at all times 😷⁠
-Please be respectful of the staff and other armys attending
-Wait outside after placing your order, where you will have the chance to check out our mini stations, snap some photos, enter our raffle GA, and browse our merch table while you wait. There will be someone from the team to help direct you.
-Freebies welcomed, but please no selling on the premises!
-Please stay home if you are feeling unwell 🤒⁠
-Tag us in your photos! @euphoriadanceny
⁠SEEKING GOODIE BAG/GA DONATIONS!
We will be putting together 100-200 goodie bags for ARMY and would love to fill all of them. Additionally, we are accepting donations for our Event Giveaway. We will happily accept all donations! If you would be interested in donating, please fill out our Donation Form: https://forms.gle/K9Y6kywZQEhY9UF27. We truly appreciate your help in bringing our event to life! 🥺⁠
Can't make it? We will have cupsleeve sets available for purchase after the event for anyone who isn't able to attend.
More details to follow! Be sure to follow us @EuphoriaDanceNY on Facebook/Instagram/Twitter for the latest updates.
Thank you! 💜