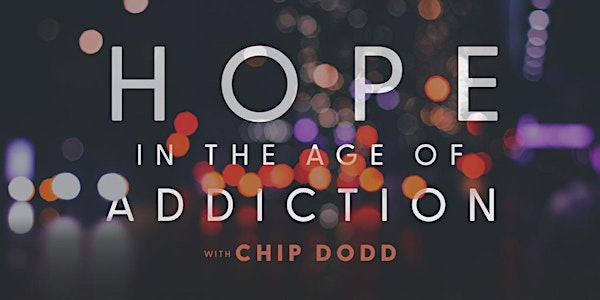 Hope in the Age of Addiction
During this one day event, Chip Dodd will be sharing about addiction - how it works, why it is so damaging, but how we can have hope.
When and where
Location
Tremont Temple Baptist Church 88 Tremont Street Boston, MA 02108
About this event
We hope you can join us for this impactful event. Whether you are in recovery, are making steps toward recovery, know someone who is or just want to learn what addiction really is, how it works and why it is so damaging to hearts, souls, minds and relationships, this is a day you won't want to miss!
Tremont Baptist Temple in Boston - https://tremonttemple.com/directions/
Conference Schedule:
Session 1| 9-10:15am
Session 2 | 10:30- 11:45am
Lunch break on your own
Session 3 | Panel with Q&A 1-2pm
About Chip Dodd, PHDLPC–MHSP:
My own recovery motivated me to dedicate my life to helping others move into the lives they were made to have. For over 30 years, I have gotten to pour my heart, experience, and education into serving others.
I spent most of those years working with professionals in a treatment setting. In 2019 I began working full-time with individuals for the purpose of advancing wellness. Appointments are available for consulting, mentoring, and counseling. I continue to educate and inspire through teaching and speaking.
I have guided thousands of professionals from all walks of life and their families across the "Badlands" of addiction, stress illnesses, and burnout to the lives they were created to have. For 23 years, I was the Executive Director of the Center for Professional Excellence (CPE), which I founded in 1996. CPE was a powerfully effective treatment center that helped thousands of people get recovery of their hearts. Those people, in turn, have helped tens of thousands do the same.
​In 2003, I founded Sage Hill: A Social Impact Organization, dedicated to helping people see who they are made to be, so they can do what they are made to do.
​Both the Center for Professional Excellence and Sage Hill have their foundations built on the Spiritual Root System (1991), a simple and effective way of seeing how we are made, and integrating how we are made into the lives we desire. The Spiritual Root System's starting point states that we are created as emotional and spiritual creatures, created to live fully through relationship with ourselves, others, and God.
​I received my PhD in Counseling from the University of North Texas in 1990 and my MA in English from the University of Mississippi in 1985. While in Texas I co-founded Bent Tree Counseling Center in Dallas. I served as the Clinical Director there until moving to Tennessee to continue work with professionals and their families.
Chip has authored 7 books, including his most recent, "Hope in the Age of Addiction".