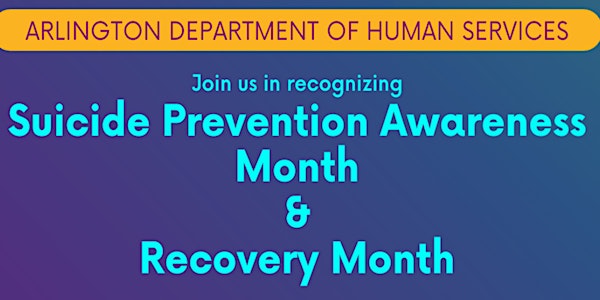 Hope, Healing, and Recovery with Kevin Hines- FACILITATED VIEWING In Person
Facilitated in-person viewing of Kevin Hines talk on Recovery, Prevention, and Wellness, as part of Recovery & Suicide Prevention Month
When and where
Location
Central Library 1015 North Quincy Street Arlington, VA 22201
About this event
Join the Department of Human Services staff and other community members for a facilitated in-person viewing of Kevin Hines's presentation to Arlington (virtual live presentation on September 28, 2022).
We offer the community two opportunities to come together in person to view a recording of Kevin's presentation and join in live discussion afterwards. If you can't make the live (virtual) event on the 28th, join us in-person at Arlington Central Library on:
Friday, September 30 12:00pm-1:30pm or
Monday, October 3, 7:00pm-8:30pm
Kevin Hines is a storyteller and best-selling author. In 2000, he attempted to take his life by jumping off the Golden Gate Bridge. One of only 36 people to survive that fall, he now travels the world sharing his story of hope, healing, and recovery while teaching people of all ages the art of wellness & the ability to survive pain with true resilience.
Kevin's compelling story has touched audiences across the world. Let him touch your life at one of the in-person facilitated viewings from his September 28 presentation to Arlington audience, when he focuses specifically on prevention, recovery, equity, and maintaining mental wellness.
NOTE: The topic of suicide will be discussed which some viewers may find triggering. Clinical staff will be on hand to provide support.
SPACE IS LIMITED!
Prefer to attend the live event? Register here.