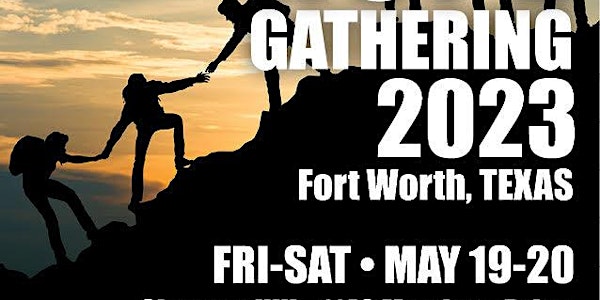 Hope Gathering, 2023
Come Join us for our 13th Hope Gathering!
When and where
Location
1140 Morrison Dr 1140 Morrison Drive Fort Worth, TX 76120
Refund Policy
Contact the organizer to request a refund.
Eventbrite's fee is nonrefundable.
About this event
22 hours 30 minutes

Mobile eTicket
Help 4 Families is holding their 13th Hope Gathering, Annual Conference at City on a Hill, Fort Worth, TX May 19-20, 2023. Help 4 Families was founded 19 years ago to minister to families and loved ones who identify as transgender. 
Help 4 Families partners with Living Stones Ministries.
Living Stones Ministries was founded 25 years ago to minister to family members with loved ones identifying as homosexual. The ministries stand together working with families and loved ones with gender, sexual, and relational brokenness.
This conference is for families of loved ones who struggle with their God-given gender or sexuality.
Hope Gathering, 2023 will begin May 19th, Friday evening 6-8 pm. Saturday begins at 8am concluding at 4:30 pm.
Speakers Include:
Dr. Robert Gagnon is Professor of New Testament Theology at Houston Baptist University. Previously he was a tenured Associate Professor of New Testament at Pittsburgh Theological Seminary, teaching there for 23 years (1994-2017). Before that he had a one-year position as Visiting Professor of Religion at Middlebury College in Vermont. He has a B.A. degree from Dartmouth College, an M.T.S. from Harvard Divinity School, and a Ph.D. from Princeton Theological Seminary. His main fields of interest are Pauline theology and sexual issues in the Bible.
June Hunt, M.A. is an author, singer, speaker and founder of Hope for the Heart, a worldwide biblical counseling ministry. Her lifework has yielded landmark contributions in the field of Christian counseling. Hope For The Heart, which she founded in 1986, offers biblical hope and practical help —through biblical counsel, coaching and context for contemporary concerns — in more than 60 countries on 6 continents.
M.D. Perkins is research fellow of church and culture for American Family Association (AFA). He produced the award-winning documentaries The God Who Speaks (2018) and In His Image: Delighting in God's Plan for Gender and Sexuality (2020). His recent book Dangerous Affirmation: The Threat of "Gay Christianity" (2022) deals with the influence of the LGBT movement within the Christian church. M.D. is an elder at his local church in Tupelo, Mississippi. He is married and has four children.
James Phelan, LCSW, MBA, Psy.D is an author and online adjunct professor for Liberty University, Indiana Wesleyan University, and Grand Canyon University. He is a program coordinator at the Veterans Health Administration in Columbus, Ohio. He currently serves on the Board of Directors for Help4Families/Living Stones Ministries and is the secretary to the Association for Christians in Health and Human Services (ACHHS).
David H. Pickup, M.A. Licensed Marriage & Family Therapist specializes in: ImTT specialist for Traumas and addictions, Gender dysphoria/sexuality and related issues, EMDR, marriage and family therapy, depression and anxiety issues, spiritual/faith issues, with children, adolescents and adults. David is a Board member of Alliance for Therapeutic Choice and Scientific Integrity.
Sherry Holt, is a conference and church speaker that has a message of God's grace, liberty and intimacy with the Father. Often in her ministry she offers insight into wounds of the soul, the brokenness they cause and how one finds healing and freedom through the love and power of encountering Jesus Christ. She has a B.S. in Communication and is an ordained minister. She works as a producer in the television ministry at Evangel World Prayer Center.
Denise Shick, is the founder and executive director of Help 4 Families Ministry and director of Living Stones Ministries. She is the author of six children's books and several nonfiction books, including My Daddy's Secret, Moving Forward in Hope Devotional, The Boy Who Liked Tea Parties, and five other child's books. Denise is a certified Life Coach and has an undergraduate in psychology. Denise has been interviewed on many faith-based radio and television programs and appeared in Tranzformed, In His Image and the Fearless Women Series.
Pastor Derek Bledsol is the Senior Pastor at City on a Hill Church. He earned his Bachelor of Arts in Linguistics from the University of Texas at Arlington, and both a Master of Divinity and Master of Theology from Southwestern Baptist Theological Seminary. He is currently a doctoral candidate at Southwest Theological Seminary in Doctor of Education.
Workshops:
Restoring gender identity: A Christian Response to Detransitioners - Dr. James Phelan
We will discuss the rates of gender transition rise, levels of dissatisfaction with gender transition are starting to rise as well. As a result, individuals are de-transitioning, and no longer identifying as transgendered. We need to be prepared and available to understand these individuals and how we can provide the support they need. The goal of this presentation is to help professionals, pastors, families and loved ones do this from an informed, loving Christian perspective.
Emotional Dependency: An Ultimate Threat to Healthy Friendships - Sherry Holt
Emotional dependency is the result of trying to find one's identity in a person other than the Lord Jesus Christ. This session will explain how emotional dependency forms, why it's a detriment to relationships and how to form healthy relationships.
Understanding Homosexuality and How to Educate and Love Your Children - David Pickup
This workshop will discuss the often hidden causes of homosexual feelings and how through faith and therapy that these feelings can diminish and change. Emphasis will be made on how to help parents prevent homosexuality in their children's early years, and how they can be of true help to their children and others for those seeking transformation out of homosexuality. Practical ways of knowing how real love works, and what doesn't work, will be demonstrated.
Testimonies will be a part of the day.
Please contact us at care@help4families.com if you will childcare.
Location
City On a Hill located at 1140 Morrison Dr, Fort Worth, TX 76120
Dates and Time
May 19, 2023 Friday Evening 6:00 pm-8:00 pm
May 20, 2023 Saturday 8:30 AM - 4:30 PM  
Airport 
DFW (Dallas Fort Worth)
DAL (Dallas Love Field)
Local Hotels
La Quinta Inn & Suites at 8250 Anderson Blvd, Fort Worth, Texas 76120 Phone (682) 237-7519.
Best Western Plus is located near the DFW airport (Irving, Texas). Phone number 844-663-2269
Lunch
Enjoy fellowship and lunch at the conference venue! Please choose a meal when registering. 
Conference Rules
Registrations signifies each registrant/attendee agrees with and will abide by the conference policies and code of conduct listed for this event, in the event registration is completed or paid by someone else.
Code of Conduct: Help 4 Families and Living Stones Ministries requires all conference attendees to sign and adhere to certain standards of conduct. While open discussion and questions are valuable, disruption is not acceptable. Personal recording of the speakers is prohibited. Disruptions in or perceived disruption as reported by staff will not be tolerated and you will be removed from the seminar. Distribution of non-conference literature, campaigning for philosophical or political views, use of alcohol or narcotics, or harassment of any type is grounds for dismissal from the conference. Persons who are asked to leave will not receive a refund. Living Stones Ministries reserves the right to remove anyone from the conference, if there is reasonable cause to believe that he or she might cause harm to themselves or others or refuses to adhere to the Code of Conduct.
Minors under 18 must be accompanied by a parent or guardian. No counseling will be provided for minors.