Location
University Park Branch Library
3435 University Blvd North
Jacksonville, FL 32277
Join our panel of Real Estate & Credit Experts as we break down the "Mysterious FICO Scoring Model!" FREE EVENT - PRICELESS KNOWLEDGE
About this event
Hope for Housing Presents:
Credit 101 - SOAR YOUR SCORE MASTERCLASS!
🆓FREE EVENT – FREE EVENT – FREE EVENT🆓
📢Attention Future Homebuyers! It's time you took Charge of Your Credit! Join our panel of Real Estate and Credit Experts for the "SOAR YOUR SCORE MASTERCLASS!!!!" The Education Is Free 🆓, The Knowledge Is Priceless! 💎
Come ready to learn🧑‍🏫 and see as we reveal what is behind the curtain of the FICO Scoring Model and its Algorithm!!!
LIVE Q & A WITH OUR PANEL OF REAL ESTATE AND CREDIT EXPERTS
We will be dropping GEMS! 💎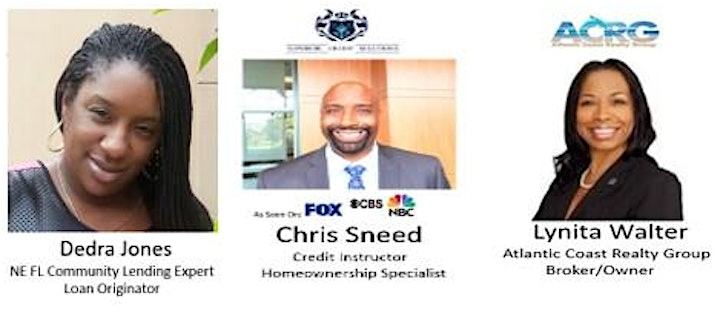 Topics Of Discussion:
🌟What your credit score REALLY is and what does it PREDICT? 🔮
🌟How to get Mortgage Credit Approved to buy your home! 🏡
🌟How to stop CHASING Credit Scores and How to BECOME your Credit Score!
🌟What credit card companies and banks don't want you to know about Credit Scores? 💳🏦
🌟How to create a strategic plan to raise your Maximize your Score potential!
This MASTERCLASS is PERFECT for YOU if...
✨You want to start leveraging credit to your advantage to buy a home, start a business, buy a car, raise your credit score, employment, or just have a better understanding of CREDIT SCORES!
✨You are embarrassed by your credit score or credit card debt and you feel behind or hopeless when it comes to your credit score
✨You feel overwhelmed, scared & confused about credit cards and how to use them as credit score boosters!
Have YOU ever wondered?...
❓Why are my scores so different from one site to another?
❓How come my scores aren't moving?
❓There is so much information out there, I don't know what to believe?
Then this MASTERCLASS is for YOU!
What: The Credit 101 "Soar Your Score Masterclass!"
Cost: FREE
When: August 27th, 2022 10:30am to 12:30pm
Where: University Park Branch of the Jacksonville Public Library
🥪🍎*Food for the Mind Body and Soul Served!🥤🍪
🎟️REGISTER TODAY, SEATS ARE LIMITED!!!🎟️
Share this event if you know someone who can benefit from it!