Hope for Highland Park & America

Monday, November 10, 2014 from 9:00 AM to 5:00 PM (EST)
Event Details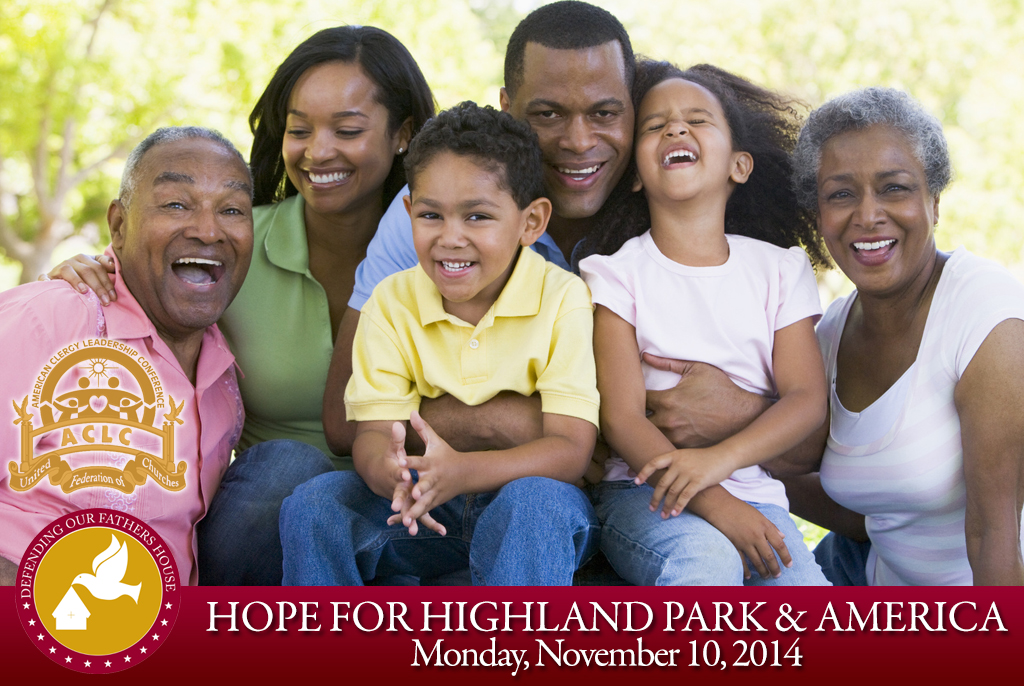 Restoring Marriage & Family Life in 2014
Monday, November 10, 2014
9:00 a.m. – 5 p.m.



Friends,
 
Hope shines brightly November 10, 2014, when Metro Detroit clergy and community leaders gather together at Soul Harvest  Ministries on Woodward Avenue in Highland Park to listen, learn, and draw plans for Restoring Marriage & Family Life in 2014 beginning in Highland Park.


Marriage & Family Life has collapsed in Metro Detroit and children suffer terribly in Michigan's broken family culture. The Detroit bankruptcy is just one symptom of a profound and enduring failure of our economy and moral infrastructure. Yet, as faithful Americans we are determined to reverse our family brokenness and become one of America's safest and soaring communities in the United States. It begins in Highland Park where Ford Motor Company built the world's first automotive assembly line in 1910.

Conference attendees will discuss how America's model of broken family life has affected the black family and what we can do about it right now—today. Michigan families are hurting. We all need help. On the table for discussion are proven strategies and methods to build up our people and our neighborhoods. The mission begins with first things—at home.

 
Key goals are to:
promote, increase, strengthen and restore marriage & family life

shrink divorce and cohabitation,

make marriage mentor ministry readily available

elevate the success of congregations & their communities, financially and spirituallly  

Learn more about this event on our website.
When & Where

Soul Harvest Ministries
16300 Woodward
Highland Park, MI 48203


Monday, November 10, 2014 from 9:00 AM to 5:00 PM (EST)
Add to my calendar
Organizer
Defending Our Fathers House (DOFH)
Our mission at Defending Our Fathers House (DOFH) is to establish the legal and institutional integrity of marriage and family.
DOFH recognizes that marriage unites a man and a woman with each other and any children born from their union.
Children have a fundamental, natural right to know and be cared for by mother and father, as far as is possible. This right, by virtue of children's vulnerability, dependency, and unique needs for survival and success, requires institutional safeguards that optimally protect the relationships of mother and father to each other and to their child(ren) so that they may best serve those needs and thrive as a family.
We invite you to join us in defending institutional marriage, children, spouses, and parents by first educating yourself, family members, and others about the issues concerning marriage. Strong, healthy marriages provide the vital foundation for families, neighborhoods, communities and nations. We ask you to invest your unique gifts, time and resources with us and other marriage advocates to establish the legal and institutional integrity of marriage, parenthood, and family life.
Hope for Highland Park & America