Offering Hope and Celebrating Life with Community!
About this event
Celebrating community, God's love, and deeper connections with neighbors & friends!
Join your Memorial Tabernacle Family as we celebrate 96 years in ministry in Oakland, 61 years at our current location, and many, many centuries ahead to share God's love. What is a HOPE Block Party? It is a place where you can come to receive love, hope, resources, encouragement, and reassurance to make it one more day! Hope is an optimistic state of mind that is based on an expectation of positive outcomes. It is not saying that you may not go through or you may not experience some tough times, but you will in the end you will be able to smile!
Messages of Hope
Inspirational Music
Kid's Zone
Community Partners
Fun
COMMUNITY FRIENDS & PARTNERS |
Memorial Tabernacle Church (CHSC) has great partnerships and friends in the community who have accepted the invitation to celebrate our Ninety-sixth Church Anniversary Sunday, October 10 from 11:30 to 2:30PM. Meet with community organizations and partners who support our mission to impact community and transform lives.
JusJames
Tucky's Caricatures
MTC Musicians
Minister Joycelyn, Balloon Artist
Teen Challenge East Bay Inc. / Teen Challenge NorWestCal Nevada
Oakland Fire Department Station # 8
Bushrod Community Rec Center
Purpose & Hope - A Community Food Bridge
Blocko Vegan Tacos
CareGiver, Take Care
Weekend Mobile Notary
Youth Going Green
Nzilani Glass Conservation
Book Giveaway. Supported by Oakland Literacy Coalition Grants
Nurse Samantha & Friends
MB Jessee Painting
21st Century
And many, many others...
We thank each of you in advance for registering to be a part, and we look forward to celebrating with you and seeing each of you! So don't miss it! Stay for 45 minutes or stay the entire time. Our hope is that you leave encouraged, empowered, and loved!
PLAN TO HAVE A GOOD TIME! |
Dress according to the weather: Hat and Shades if the weather is hot or Lite Jacket if the weather is cool
Wear comfy shoes.
Mask must be worn at all times.
Please social distance.
Come hungry to support Blocko Vegan Tacos!
QUESTIONS |
For questions, please email admin@memorialtabernacle.org. Thank you! #WeGotThatGoodNews #ThereIsHope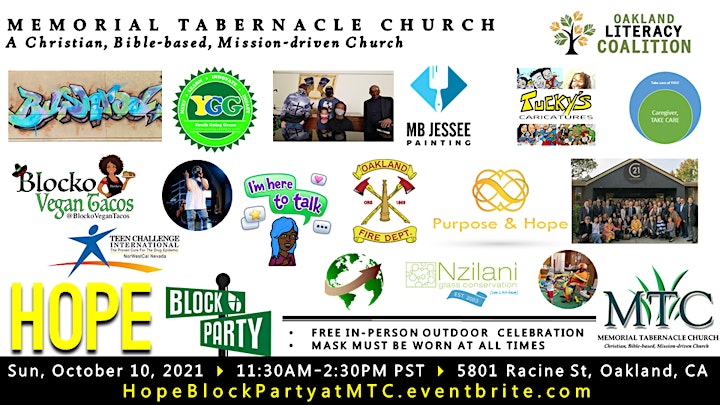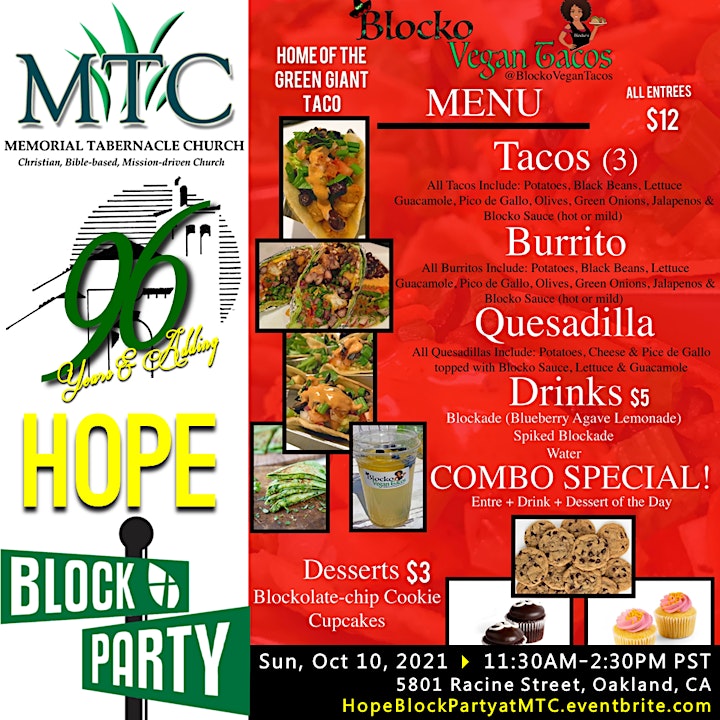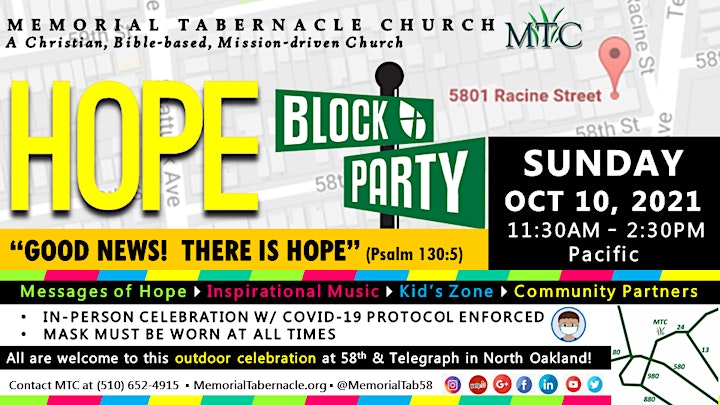 Organizer of HOPE Block Party: MTC's 96th Anniversary Outdoor Celebration
We welcome you to worship with us at Memorial Tabernacle Church under the spiritual leadership of Pastor Stephen King. At MTC, our focus is Jesus Christ - to worship Him, to praise Him, and to give Him all the glory! Visit our website www.memorialtabernacle.org for more information and upcoming events!