Description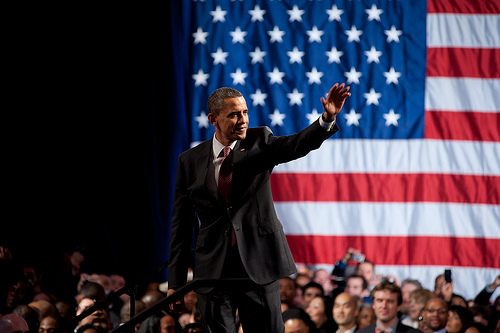 When Barack Obama asked for support from America's youth in 2008, many came out in record numbers to participate in a historic election, and the transformation of a nation seemed to rest firmly in their grasp. Young voters and volunteers rallied around him and identified with his message of hope and change.
Now, as President Obama embarks on a bid for re-election, how have perceptions changed? Were the promises he made to America's youth fulfilled? Will young voters stand behind him again?
On Tuesday, November 29th, BU Today presents Hope and Change? A Conversation on the Obama Presidency. Join Boston University faculty and political experts Thomas Fiedler and Robert Zelnick in a town hall-style discussion with students, moderated by Dean of Students Kenneth Elmore. The event is free and open to the public. Registration is required.
The event will also be broadcast on the main Boston University UStream channel. You can participate in the conversation on Twitter using the hashtag #BUchat.
About the panelists
Thomas Fiedler
Fiedler is the Dean of the College of Communication at Boston University. He comes to BU after having spent over thirty years as a Pulitzer Prize-winning investigative reporter for the Miami Herald. As a Visiting Murrow Lecturer and Goldsmith Fellow at Harvard University's Shorenstein Center on the Press, Politics, and Public Policy, he has examined the effect the Web has on presidential primaries, and the effects of media on politics.
Robert Zelnick
Zelnick is a professor of journalism in the College of Communication at Boston University. He served as a political and congressional affairs correspondent for ABC News for twenty-one years. He has also worked for National Public Radio, the Christian Science Monitor and The Anchorage Daily News. In 1977, he served as executive editor for the Nixon-Frost Interviews.
Anthony Priestas
Anthony Priestas is a fourth year Ph.D. student in the Department of Earth Sciences (CAS '12) and president of Liberty at Boston University, a student group dedicated to social and economic freedom.
Tabitha Watson
Tabitha Watson, from Oak Park, IL, is a senior in Boston University's Dual Degree Program studying Political Science and Journalism with a minor in Spanish.
Crystal Burrell
Crystal Burrell, from Brooklyn, NY, is a Boston University sophomore in the College of Arts and Sciences.
Kenneth Elmore
Elmore is the Dean of Students for Boston University. His office is responsible for overseeing BU's student organizations, as well as supporting the academic and personal growth of students. His weekly forum, Coffee and Conversation, encourages the Boston University community to debate hot-button issues and current events.
Sponsor