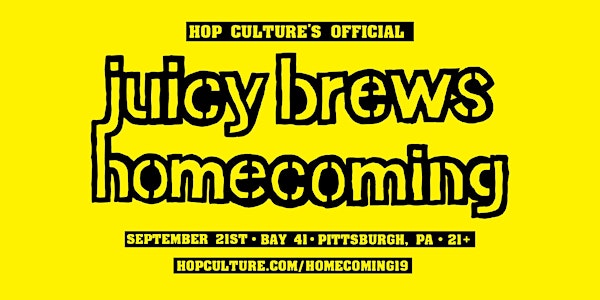 Hop Culture Presents: Juicy Brews Homecoming Craft Beer Festival
When and where
Location
Bay 41 4107 Willow Street Pittsburgh, PA 15201
Description
General
We're coming back to the 'Burgh! This summer, we announced that Hop Culture was moving its HQ to Pittsburgh, and now we're throwing a proper homecoming party. Expect unlimited pours from some of the best breweries in the country, music, and merch.
Follow @hopculturemag and sign up for our weekly newsletter to stay updated on the event.
Where will the event take place?
Bay 41, 4107 Willow Street, Lawrenceville, Pittsburgh, Pennsylvania 15201
When is this happening?
The festival will take place over a single session on Saturday, September 21st, 2019. The session will run from 1:00 PM to 5:00 PM. Pours will stop 10 minutes before the end of the session.
Is there an age limit?
All attendees must be at least 21 years old with a valid ID.
Please no pets, children, or strollers. Do not bring any coolers, canopies, umbrellas, or tables. Bags are permissible but are subject to security inspection upon entry into the festival. No weapons of any kind are permitted.
What do I get with my admission?
The General Admission ticket option gets you a taster. Once inside the event, you'll have access to unlimited 4 ounce pours from the breweries on our list!
The Designated Driver ticket option gets you a t-shirt of your choice from the merch table.
Will there be food?
There will be food available for purchase. Vegetarian options will be available.
The Beer/Breweries
Who is attending?
The current list is as follows. Note that this is subject to change due to any number of extenuating factors, but we'll do everything in our power to avoid that.
11th Hour Brewing Co. (PA)
Battery Steele Brewing (ME)
Benchtop Brewing Co. (VA)
Bearded Iris Brewing (TN)
Birds Fly South Ale Project (SC)
Cinderlands Brewing Company (PA)
Dancing Gnome Beer (PA)
Dewey Beer Company (DE)
Ever Grain Brewing (PA)
Four Points Brewing (PA)
Fury Brewing Co. (PA)
Grist House Craft Brewery (PA)
Hightower Brewing Co. (OH)
Hitchhiker Brewing Co. (PA)
New Trail Brewing Company (PA)
Perennial Artisan Ales (MO)
Red Dragon Brewery (VA)
Shacksbury Cider (VT)
ShuBrew (PA)
Vitamin Sea Brewing (MA)
Who will be pouring the beer?
We work hard to make sure that a representative from each brewery is on hand to pour beer, answer questions, and have fun. In most cases, this will be the head brewer or founder.
Which beers will be served?
The beers at the fest are extremely fresh and limited release, so it's hard to predict brewing schedules well in advance. However, we'll release the beer lists in the week leading up to the fest as they become available.
Will there be enough beer?
Some breweries will kick their kegs before last call, but we will do our best to avoid this.
Other FAQs
Will you have merchandise?
Absolutely. Hop Culture will be selling glassware, tekus, shirts, pins, and stickers designed by London-based artist Sam Taylor.
How do I apply for media passes?
Send an email with your request to kenny@hopculture.com. Please include the name of your publication or account and your estimated reach.

The Rules
Please DO NOT bring outside food or open any cans/bottles during the festival. For legal reasons, they will be confiscated.
It's a party and we want everyone to have a good time, but anyone that's visibly intoxicated and acting inappropriately will be asked to leave. There is no re-entry on event grounds. Once you exit, you must leave the premises. The event is outdoors and will be rain or shine.
There's a chance we'll be taking photos or filming video at this event. Please be aware that we might use this content for certain promotional material, especially if it looks like you're having a great time. Also, by purchasing a ticket, you acknowledge that you're over the age of 21. You also agree to release Hop Culture, LLC, and its successors, assigns, partners, and licensees from any liability that may arise from your behavior during or after attending this event.
We strongly encourage that attendees use services like Uber, Lyft, or local taxis, but there are parking spaces all around the venue on the street.
A special thank you to our local sponsor, Fort Pitt Capital, for helping to make this event happen!
Tickets are non-refundable and subject to applicable taxes and fees, as well as changes. All sales are final!
We look forward to seeing you on September 21st!