Sales Have Ended
Ticket sales have ended
Sorry, this event is sold out!
Sales Have Ended
Ticket sales have ended
Sorry, this event is sold out!
Description
OUR ANNUAL CELEBRATION OF NTH-DEGREE BEER GEEKERY IS BACK FOR A SEVENTH ROUND!
We've been proud beer geeks since 1996, so it's only natural for us to celebrate when our hometown becomes the center of the nerd universe during San Diego Comic Con. Join us at Stone Brewing World Bistro & Gardens – Liberty Station on Thursday, July 18 for Hop-Con 7.0!
Your $75 ticket includes:
Fifteen 3oz tasters (5 of which count for w00tstout pours)
3 specialty casks of w00tstout
Commemorative glassware to take home
Gourmet food stations with unlimited tastings
Lawn games including giant Jenga, bocce ball, connect 4
Silent Disco
Interactive Art Wall
Churros for dessert
Costume contest
Designated driver tickets are available for $35. Ticket includes all the awesomeness of General Admission, minus the beer and commemorative glassware.
---
HERO INITIATIVE LITHOGRAPHS
Hero Initiative will once again be partnering with us to bring you this year's bottle art in a lithograph signed by the bottle artist, Alan Davis! Lithographs can be purchased for $20 online and during the event. There will also be a very limited number of previous years' artwork for sale. ALL proceeds go back to comic artists from yesteryear!
About Alan Davis
Alan Davis is an English-born writer and artist of comics. He began his professional career in 1982 with Marvel UK's Captain Britain. Since then, he has written and drawn for a plethora of other Marvel and DC comics, including Batman, X-Men, Justice League, Fantastic Four, The Avengers, Guardians of the Galaxy, and most recently a series of Thanos original graphic novels. For more information on his work, visit AlanDavis-ComicArt.com.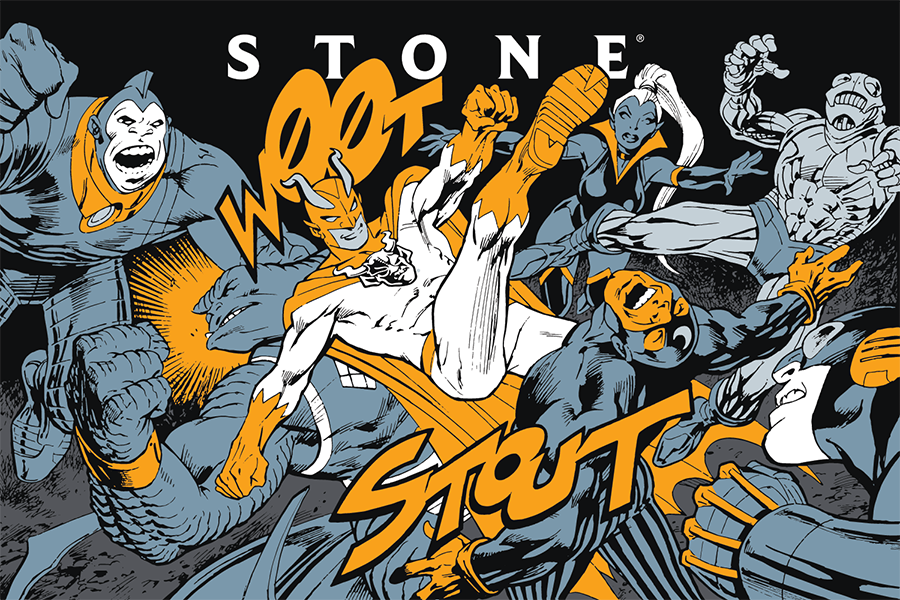 ---
BEER LIST
Stone Mission Warehouse Sour

-

Apricot

Stone Mission Warehouse Sour

-

Mosaic Wild Ale

Stone Mission Warehouse Sour

-

Blackberry & Black Currant

Stone Mission Warehouse Sour

-

Sauvignon Blanc

Stone Mission Warehouse Sour

-

Strawberry & Sour Cherry

Stone Great Bowman's Beard Aged In Scotch Barrels

(Scotch

barrel aged

a

le)

Stone Aulder Rauch

(

Scotch barrel aged rauchbier

)

Stone Old Knightmare

(English

-s

b

arleywine)

Stone Wittiest Moron

(Red

wine barrel aged

i

b

w

itbier)

Stone Be-All & End-All

(Bourbon

b

a

b

arleywine)

Wise Acre / Stone Hall Of Mirrors

(Black

m

l

iquor)

Stone Hoppy Brownie

(Hoppy

h

b

a

le)

Stone Simple Kind Of Man

(Sin

g

h

p

ils

ner

h

ops)

Stone Goat Brown

(American

b

a

le)

Stone Buoy 1 SD Pale Ale

(San Diego

p

a

h

ops)

Stone Classics: Heat Seeking Wheat

(

Hefeweizen)

Stone Liberty Clich

é

(American

b

londe)

Stone Liberty Kolsch

é

(Kolsch-style

ale)
Shanghai Love Brewing Co / Stone Shadowbinder

(Dark

p

g

ose)

Stone Dom-X

(Imperial IPA)
Stone Stylin' & Low Profilin'

(Hoppy

b

a

le)

Black Plague Brewing / Stone Brutal Heisting Hefe

(Hoppy

h

efeweizen)

Stone Lupulin Loop: Triumph

(Single hop IPA series)
Stone ImperiALS Red

(Hazy Red Imperial IPA)

Stone Tartistry

(PB&J Berliner Weisse)

Stone Notorious P.O.G. Berliner Weisse

(Tropical Berliner Weisse)

Vertical w00tstout selection spanning w00tstout 1.0 – 7.0
Hop-Con EXCLUSIVES
Aisha Tyler / Stone Stone Cold Fox

(Chocolate orange black IPA)

Aisha Tyler / Stone Stone Cold Fox w/Nutmeg, Vanilla & Bourbon Oak Chips

Drew Curtis / Rebecca Watson / Kris Ketcham "Salty Gamer" *New Special Collaboration Beer*

Jonah Ray / Kris Ketcham "TuPOG" *New Special Collaboration Beer*

Bobak Ferdowsi / Rileah Vanderbilt / Kris Ketcham "Kamehamehawesome" *New Special Collaboration Beer*

THREE

Hop Con Exclusive

Special Creations

THREE Special w00tstout Cask Creations: Gargoyle Arácnido w/Pasilla Peppers, Gargoyle Manor w/Estate Cherries & Judge Cocoanut w/Toasted Coconut
---


TASTY BYTES

Impossible Sliders-white American, spicy aioli, crispy fried onions
The Burger Sliders-house spread, pickles, grilled onions, white American, butter lettuce, tomato
Angry Chicken Sliders-marinated cucumber, kimchee slaw, sriracha mayo, furious sauce
Meatball Sliders-spicy marinara, mozzarella
Mac and Cheese-andouille sausage, garlic parmesan crumbs (will have vegetarian option)
Brussels w/pancetta and Pedro Ximenez glaze (will have vegetarian option)
DESSERT

Churros with Chocolate Sauce
---
Quiz-o-Tron
Quiz-o-Tron is the world's greatest science-themed comedy panel quiz show in which comedians battle scientists for the ultimate prize of wearing the Quiz-o-Tron belt. Join Lucky Yates (Archer), Jennifer Ouellette (The Physics of the Buffyverse), Drew Curtis (Fark), Ross Blocher and Carrie Poppy (Oh No, Ross and Carrie!), Scott Sigler (Infected), Adam Rogers (Wired) and host Rebecca Watson for all the raucous, nerdy, boozy fun!

Location: Small Banquet Room
Time: 8:00pm
First come, first serve to the first 75 fans
---
Music by Cheyenne Giles

Cheyenne Giles is an ambitious Producer from San Diego who centers his craft around creating a one of a kind performance. Considered as a jack of all trades, Cheyenne Giles embodies the diversity of a wide range of music, creating a mesmerizing display of sound that will leave any audience pleased and begging for more. Pushing his work a little further, Cheyenne Giles encourages his viewers to become part of the art as a kind of added component. Cheyenne Giles holds a strong belief that art is entertainment, and to be able to touch the work, as well as to interact with the work is extremely important.
---
This event is 21 and over, including designated drivers
We will have plenty of chilled water on hand, so leave your single-use bottles at home.
Don't forget your valid photo ID.
Please pace yourself. Our festivals are meant to showcase amazing beers in a jovial setting for likeminded people to enjoy them. We work hard to make each one a positive experience for everyone. Your safety is in everybodys best interest; as such California law prohibits us to serve any obviously intoxicated guests.