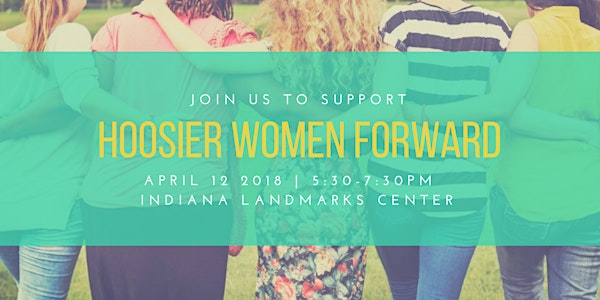 Hoosier Women Forward Kick-off Fundraiser
When and where
Location
Indiana Landmarks 1201 Central Avenue Indianapolis, IN 46202
Description
You are cordially invited to an inaugural launch and fundraiser in support of Hoosier Women Forward.
Please consider joining our host committee at the following sponsorship levels:
Presenting Sponsor: Cindy Simon Skjodt
Platinum Sponsor: $2,500 (10 Tickets)
Gold Sponsor: $1,000 (4 Tickets)
Silver Sponsor: $750 (3 Tickets)
Bronze Sponsor: $500 (2 Tickets)
Individual Ticket: $250
Young Professional Ticket (under 40): $100
**RSVP by April 12 by purchasing general admission tickets or by emailing info@hoosierwomenforward.org.
Sponsorship and Ticket Options
**Selecting your sponsorship/ticket: If you wish to purchase a sponsorship ticket and/or bring a check to the event please email info@hoosierwomenforward.org and indicate the level at which you wish to sponsor or purchase a ticket. Otherwise, please purchase an individual ticket by clicking on the green "Ticket" button above.
For more information, contact Shannon Mears at (317) 412-3297 or email info@hoosierwomenforward.org.
If you cannot attend the event but still wish to donate, please go to www.hoosierwomenforward.org/donate
Hoosier Women Forward is a registered non-profit 527 Political Organization. Contributions are not tax deductible.
**********************************************************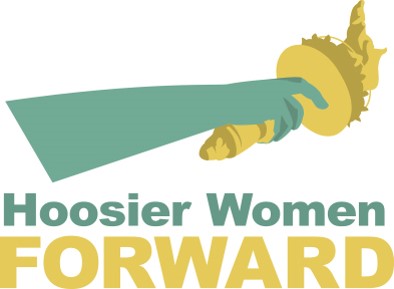 Hoosier Women Forward is a political and civic leadership program designed to prepare Democratic women to assume a position of leadership in public service. As a non-profit political organization, we are funded through private contributions and annual fundraising efforts.
Our mission is to increase the number and influence of Democratic women in elected and appointed government positions at the local, state and federal levels, and in positions of influence in their communities and the private sector.
To learn more, visit hoosierwomenforward.org.