Description

Hoopla is a monthly gathering of entrepreneurs, creatives, and technical masterminds. We combine the many doers, makers and innovators in one place to foster great collisions of people, ideas, and talent. We cycle the event each month to/from Portsmouth, Manchester and Durham, NH.
Lets be honest - you work way too hard. You need a vacation. But you are way too busy for a vacation. How about going out for the night? Yes! That's the ticket. If only there was some sort of event where you could hang out with creative, interesting, and occasionally hyper focused people like yourself. A place to share the crazy stories of startups, projects, clients, inspiration, new tech and more.
Hoopla is a gathering for you and 50+ of your favorite peoples who love all things creative, tech, and entrepreneurship in New Hampshire. Enjoy a beverage, hang out with your peers, and relax. No presentations. No fuss. Just a lot of hoopla.
Location & Parking

Alpha Loft is now located at 21 Madbury Road, Durham, NH. Attendees can enter through the entrance closest to the Pettee Brook parking lot (see the image below) and follow the signs to the event.

Attendees may park along Madbury Road, Pettee Brook Lane, and Main Street. Parking is metered until 6:00 PM and is strictly enforced. The first hour is free in many lots, HOWEVER, please make sure a ticket is displayed in your vehicle before leaving.

For additional parking guidelines, please visit the UNH Parking website.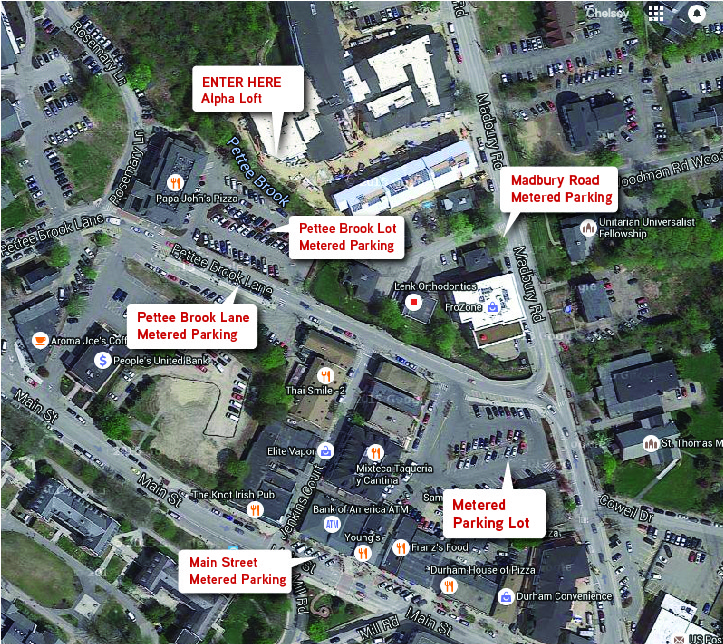 Thank you to our Alpha Loft's Premier Partner

And to our Hoopla! Contributing Sponsors