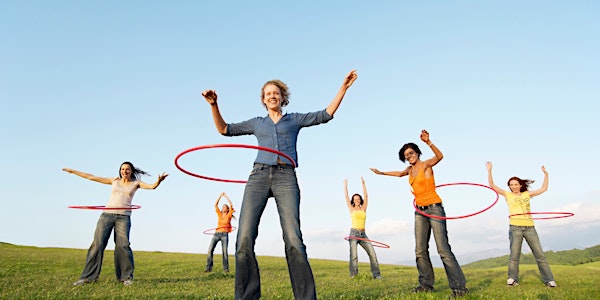 Multiple dates
Hooping Fitness Class (Fitness with a Positive Spin)
Hooping makes you smile, burns crazy calories, and tones the entire body. An adult size, weighted hoop is used to make hooping easier.
Date and time
April 29 · 9am - June 10 · 9:45am EDT
Location
Capitol Riverfront 1100 New Jersey Avenue SE Washington, DC 20003
About this event
Are you ready for some FUN fitness? If you are, come to this 45-minute adult, hula hooping, fitness class where we will hula hoop in a beautiful park by the water. This class will include a warm up to get your body ready for movement; an active section (where you will learn different moves on your body like waist and hip hooping, and off your body like hand hooping and other tricks). This is a mixed-level class so all are welcome whether you can win a hooping contest or you have never been able to get a hula hoop to stay up. The instructor can help you hula hoop.
In addition to making you smile, hooping has lots of benefits...
Physical Benefits of Hooping
Burns 50-100 calories in just 10 minutes
Builds core strength
Tones and strengthens muscles in the entire body
Improves cardiovascular endurance
No to Low Impact
Increases energy
Increases flexibility
Additional Benefits of Hooping
It's fun
Reduces stress and improves mood
Non-competitive physical activity
Improves balance
Improves hand-eye coordination
Improves dexterity
Fosters creativity and self-expression
This is an adult only class and hula hoops will be provided in adult sizes only. Your ticket reserves your hoop.
A waiver MUST BE completed before the event. There will be a waiver to sign at the event.
The host (Granetta Coleman) is a certified Healthy Lifestyle Accountability coach and certified hooping instructor. She works primarily with busy, professionals who struggle with weight gain and exhaustion. She guides them in eating better and moving more resulting in all kinds of positive impacts like dropping a clothes size, and feeling energetic and empowered!
Learn more about her services at rooteddish.com. Book a free strategy session if you want to go beyond hooping to create a mindset, routines and an environment where the healthy choice is the easy choice.
Please dress for a workout and bring your own water.
About the organizer
Hi, I'm Granetta.
I'm a certified health coach, plant-based cooking instructor, hooping instructor. and owner of Rooted Dish. I help women over 40 who struggle with weight gain. Many of the women I work with who struggle with their weight also have the added challenge of low energy. When I guide you through my Vibrant Woman Makeover 1-on-1 coaching program, you enjoy a step-by-step process of change that has you shedding pounds and waking up with more energy.
So you can get to know me better, let me tell you a little about me. I'm an active, energetic 54 year old mom. I live in Washington, DC and I love the outdoors (whether that's walking or biking around DC; hiking in the woods; or hula hooping). I've been able to change my mindset around food so that I eat delicious nutritious meals not because I have to, but because I want to. Lastly, ten years ago I was 30 pounds overweight and tired all the time. I finally decided to treat myself better and slowly made changes to the FUNdamentals that transformed my health and my life for the better. It's my mission to help you do the same!!
Are you ready to start making changes that have you feeling better and living better? Let's talk.