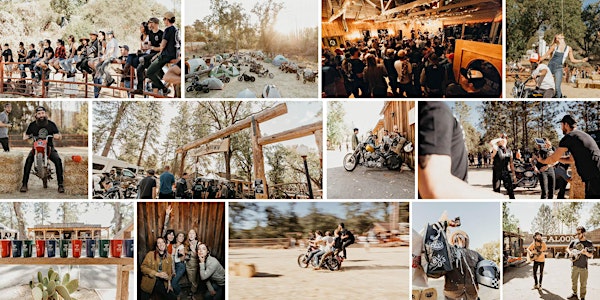 Hooligan Hoedown VIII
Hooligan Hoedown No. 8 -- Bandit Town, USA -- September 10th - 12th
When and where
Location
Bandit Town USA 55420 Road 226 North Fork, CA 93643
About this event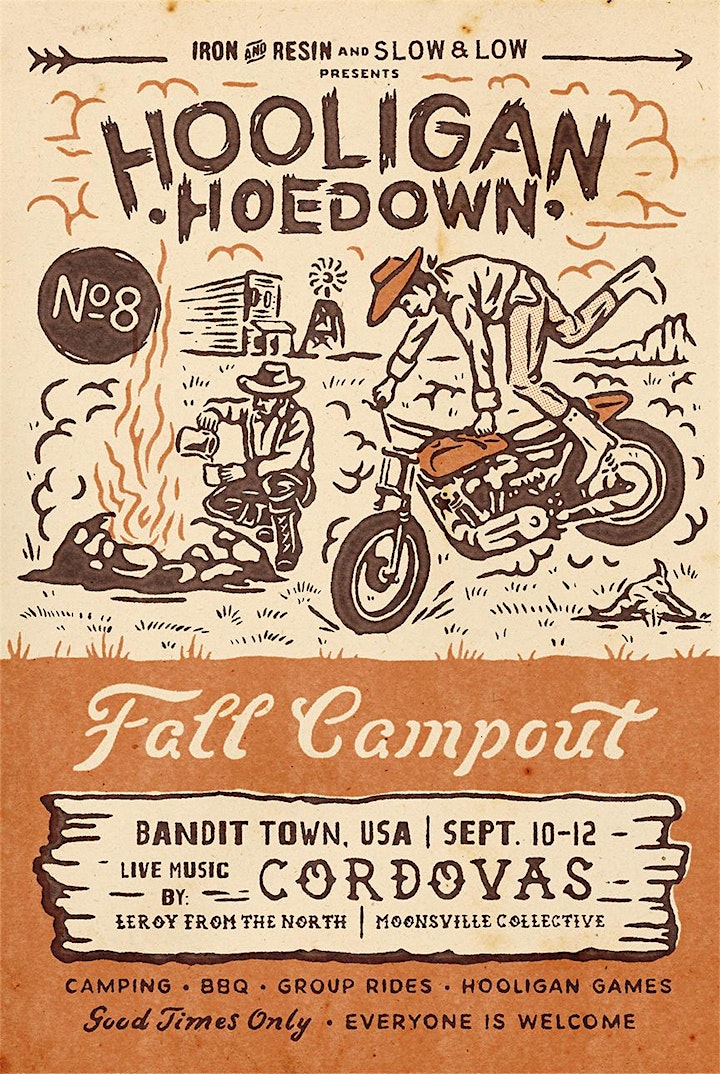 Calling all Hooligans!
The sun is out, the birds are chirping, and the twisted back roads of the Sierras are calling! It's time to dust off your bed roll, pull out your road maps, and start planning some trips to get those knees in the breeze: Hooligan Hoedown VIII is here.
It's the annual event we look forward to all year. A place where lifelong friendships have been forged, marriage proposals made and maybe even a few babies created as far as we know. Bottom line is, it's where we all come together, regardless of age, gender, race or what you ride. It's where we all share a common bond - a love of the outdoors, motorcycles and good times with friends. So, after a forced hiatus, the Hoedown is back and better than ever with an extended two night event. So tune up those bikes, dust off that bedroll and get ready for an amazing weekend of making memories.
It's all happening September 10th - 12th, 2021. It'll be at Bandit Town, USA just like Hooligan Hoedown VII. So if you're looking to partake in a few summer nights, and have one hell-of-a-time doing it, now's your chance to join in on all of the fun. We'd have to say that since we weren't able to have our annual Hooligan Hoedown last year, this year is going to be that much better.
Not only are we going to have a rad line up of great food and the same ol' hooligan games, but an amazing line-up of live music from the Cordovas, Leroy From The North and Moonsville Collective.
As always, everyone is welcome and good times are all we have planned.
PS - just in case your memory is a little hazy from previous years, or you're new entirely (and that's great!) here's a link to binge watch previous years' hoedown events: Binge Watch: Hooligan Hoedown Event Videos.
PLEASE READ ALL INFORMATION BELOW
Rules and other things to know:
IMPORTANT! Please note - Registration and gate entry ONLY between the hours of 2-6 on Friday and 10-3 on Saturday. Once you're registered and have a wrist band, you can come and go as you please. Please make sure you arrive during registration hours.
Ticket covers 2 nights Camping + Live Music + BBQ Dinner (Saturday night) + Raffle ticket + Ticket to see Cordovas, Leroy From the North and Moonsville Collective + HH Party Pack (while supplies last).
Tattoo's by Mara Ohara @deathxcat & Adam Moorhead @eacherton (Special deals, but not free)
Hooligan Games (safety helmets provided by Biltwell) and a hell of a good time!
Attendees are responsible for other meals. We'll have food trucks on site Friday night. Coffee from Humblemaker will be provided Sat and Sun morning. Bandit Town will be open Sat and Sunday morning with breakfast to aid with your hangover.
On-site Vendors to include: @Atwyld @sunburnerco @WesterlyUSA @motofabricaco
Alcohol provided by: 805 Beer, Union Wine, Slow & Low , Bandero Tequila
This event is rain or shine. Tickets cannot be refunded
No outside alcohol is allowed: the bar will be open and serving libations by 805 Beer, Slow & Low Rye Whiskey, Union Wine and Bandero Tequila to quench your thirst. You're unable to bring your own booze into the event.
Please leave your firewood at home, ESPECIALLY with all these fires going on... limit your cigarette intake just for this night.
All are welcome to this event - whether on two wheels or four. We'll have moto and auto parking available.
4 wheels, please make sure you arrive early to get parking. No cars allowed in camping area
No RV's or Trailers (space issue)
Don't feed the animals
PLEASE DO NOT throw your cigarette buts on the ground, not good for fire safety and we have to pick them all up
Don't start a campfire. No cookstoves.
NO PETS, they disturb Bandit Town's pets
Settle Down after midnight and don't disturb your neighbors or ours
Most of this is common sense. We want y'all to have a good time for a long time.
How to get to Bandit Town (group ride details to Bandit Town announced soon)
From LA (4 hours, 30 minutes)
Take the 5 North to the 99 North through Bakersfield to Fresno and in Fresno pick up the 41 North towards Yosemite. Turn right at a traffic light near a park n ride. The sign there says North Fork/O'Neals. Continue on North Fork road to the Shell gas station. Tune left on Crane Valley road which is immediately beyond the Shell Station. Drive to Road 226, turn right, and look for the signs. Bandit Town is on the right.
From SF (3 hours, 30 minutes)
Take I-580 E, Continue onto I-205 E (signs for Interstate 205/Tracy/Stockton),Take the exit onto CA-120 E toward Manteca/Sonora, Keep right at the fork, follow signs for CA-99 S/Modesto/Fresno and merge onto CA-99 S for 85 miles to Madera and take the Cleveland Avenue exit. Keep left at the fork, follow signs for Millerton Lake. Turn left onto Ave 15 1/2/Cleveland Ave. Turn right onto W Cleveland Ave. Continue onto Tozer St. Turn left onto CA-145 N/E Yosemite Ave for 14 miles. Turn left onto CA-41 North for 8 miles and turn right onto North Fork Road. The sign there says North Fork/O'Neals. Continue on North Fork Road to the Shell gas station. Tune left on Crane Valley road which is immediately beyond the Shell Station. Drive to Road 226, turn right, and look for the signs. Bandit Town is on the right.
Website: www.ironandresin.com
Instagram: @ironandresin
Want to get involved?! Email: thom@ironandresin.com for sponsorship opportunities