Description
Join us as Hooked author Nir Eyal shares advice from his brand new book Indistractable: How to Control Your Attention and Choose Your Life.
Do you ever get the feeling you're bombarded with too many emails, pings, dings, and rings? You're not alone. In an age of ever-increasing distraction, how do we control technology and make sure technology doesn't control us?

Nir Eyal, bestselling author of Hooked: How to Build Habit-Forming Products, wrote the book on the secret psychology of what makes Facebook, Slack, and the iPhone so potentially addictive.

However, in this talk, Nir dives into the surprising burdens many of these technologies place on employee productivity and happiness. Nir also gives actionable advice and case studies for how successful companies manage these technologies to increase customer satisfaction, team output, and employee retention. This talk is for anyone who has ever struggled with distraction and wants to learn to harness the superpower of super-focus.
Our sponsors productboard and UserTesting are sponsoring 100 copies of Indistractable to give away on a first-come, first-served basis, which Nir will sign.
Join us for dinner, a great talk, and inspiring conversations.


About Nir Eyal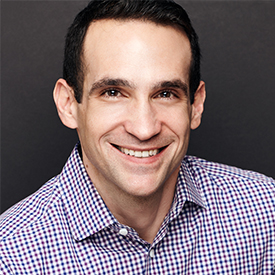 Nir Eyal has lectured at Stanford's Graduate School of Business and the Hasso Plattner Institute of Design. His first book, Hooked: How to Build Habit-Forming Products, is an international bestseller and taught Silicon Valley how to design behavior.
Nir's new book, Indistractable: How to Control Your Attention and Choose Your Life, reveals the Achilles' heel of distraction and provides a guidebook for getting the best of technology without letting it get the best of us.
You can find Nir on Twitter at @nireyal and read his blog at NirAndFar.com

Book signing!
Big thanks to our sponsors productboard and UserTesting: they have sponsored 100 copies of Indistractable: How to Control Your Attention and Choose Your Life to give away on a first-come, first-served basis.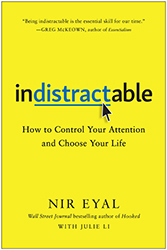 Schedule
5:30 to 6:30: Check-in, give-away of 100 books, which Nir will be signing, networking over dinner.
6:30 to 8:00: Nir's talk plus Q&A
8:00 to 8:30: Networking
Note: tickets are non-refundable.
About our Sponsors

Our sponsor UserTesting enables companies to put their customers at the center of every business decision by leveraging the power of human insights. Through our platform, product & design, marketing, and UX teams connect with their exact target customer in a matter of hours and uncover actionable insights that drive ROI. Learn more at usertesting.com.

Our sponsor productboard is the product management system that helps you understand what users need, prioritize what to build, and rally everyone around your roadmap. Learn more at https://www.productboard.com.

Our sponsor Pendo helps product teams deliver software users love. Pendo captures product usage patterns and user feedback, and lets you communicate in-app to onboard, educate and guide users to value. Learn more at www.pendo.io.

Our sponsor UserVoice combines feedback from multiple sources and teams to give product managers a singular, complete view of customer feedback. Save time, shorten research cycles, and ship the right functionality, faster. Learn more at uservoice.com.


Our sponsor Sam's Club is hiring product managers and designers. Learn more at http://bit.ly/sams-pm-ux.

Our sponsor Optimizely is the world's leader in customer experience optimization allowing businesses to dramatically drive up the value of their digital products, commerce and campaigns through its best in class experimentation software platform. Learn more at optimizely.com

A big thank you to Intuit for providing the space for our event!

Our sponsor Coreography provides corporate video and webinar solutions. Learn more at coreography.com.