Actions and Detail Panel
Hoodslam presents: FIN
Fri, January 6, 2017, 8:00 PM – 11:59 PM PST
Description
The only pro wrestling event that kicks back, straight outta Oakland, the accidental phenomenon, this is real, this is HOODSLAM!!!! (SPECIAL PRE-SALE PACKAGE BELOW: NEW HOODSLAM HOODIES!!!)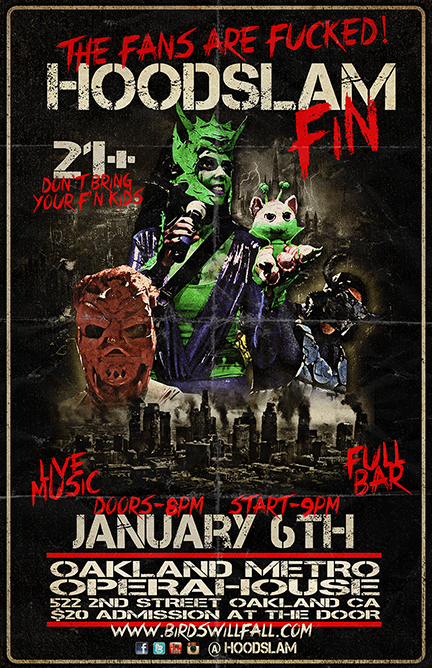 Hoodslam returns in 2017! For the end of the world.... as we know it...
Featuring:
PIZZA CAT vs. The CAUTION for the Best Athlete Award!
PONG defends the Golden Gig!
The WALKING PHOENIX Awakens!

In 2011 Hoodslam was invaded from outerspace by the Intergalactic Tag Team Champions. They were quickly murderlized. 5 years later, Ambassador Druscilla (along with Truf and Conundrum) landed on Earth in search of the former champions, only to learn of their sad fate.

Thusly, a tournament was held to crown new Intergalactic Tag Team Champions. 10 teams fought in Top of the SkyDreamers Miracle eXstacy Cup Round Robin combat (DOUBLE CHAOS: REDONDO OF BLOOD), earning points until the two top point getters in each 5 team block had one clear winner: Ryu and Ken from Block A, Virgil Flynn III and El Chupacabra in Block 1.

Virgil and Chupy would be victorious, and for the first time in 5 years Intergalactic Tag Team Champions were had! And none to quick, but it was then that Druscilla revealed the real purpose of the champions; They are the last defense against an ancient being, The Walking Phoenix. Through the eons and galaxies, The Intergalactic Tag Champions have stayed vigilant, knowing their purpose. Now, the Walking Phoenix has awoke, and it heads for Oakland.

A Being of immeasureable power, unfathomable abilities. It's come to devour our world, unless El Chupacabra and Virgil Flynn III can stop it.
SPECIAL PRESALE BUNDLE: THE HOODSLAM HOODIE!!!
We are offering these new KILLER Hoodslam zip hoodies with a brand new razor logo ONLY to January Hoodslam:FIN pre-sale ticket buyers. They will not be on sale at the show. They will not be on sale at our web store. The only way to get one is to buy a HOODSLAM HOODIE PRESALE BUNDLE. American Apparel zip hoodie in true black, logo in grey on the back. $20 for just the ticket, $60 for the ticket and the hoodie. In Broseph Joe Brody's words, FILTHY!!!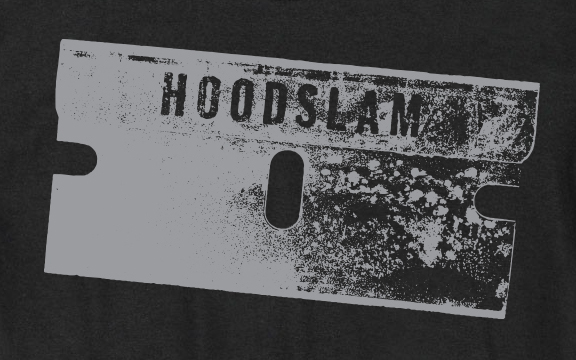 Free pickup at the show. Orders received after Xmas can be picked up at Femmed Out or at our merch guy Brownbutter's (by special arrangement) in Emeryville.

Hoodslam: FIN
January 6th, 2017, 8pm doors, 9pm show
$20 ($60 with the hoodie), 21andUP
Oakland Metro Operahouse
522 2nd Street, Oakland CA
www.birdswillfall.com, @hoodslam for everything social
dontbringyourfnkids