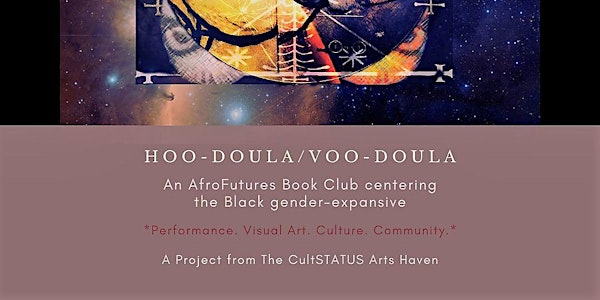 Hoo-Doula/Voo-Doula: An AfroFutures Book Club
A recurring AfroFutures book club featuring marathon readings, online talk-backs, and community-led art response.
When and where
Location
Gallery 992 992 Ralph David Abernathy Boulevard Atlanta, GA 30310
About this event
Hoo-Doula/Voo-Doula speculates re: Black gender expansiveness as the nebulae for Black Progress. It imagines altering timelines of reality: WE as mystic/spiritual talisman to the past. WE as umbilical cord to our future. WE as SuperMassiveBlackHole portal to forever.
What happens when we assist in our own Birth?
Thanks to funding from Alternate Roots and the Fulton County Board of Commissioners, Hoo-Doula/Voo-Doula has been expanded to include guest speakers and interactive engagement across performance, visual art, cultural work, and community organizing. Our second season will be hosted online and in person at Gallery 992 in Southwest Atlanta.
How far can the limits, boundaries, possibilities of a book club be pushed in order to activate community?
*******************************
For the month of October we're reading Akwaeke Emezi's memoir-in-letters, Dear Senthuran: A Black Spirit Memoir. Visit our website at www.cSArtsHaven.com/afrofuturesbookclub to watch a prerecorded marathon reading of the book and a talk-back featuring CultSTATUS Founder, Constance Collier-Mercado, in conversation with poet and sound artist readers Aerik Francis, Jayden McClam, and Chelsea Botts. Then, on November 12th, we'll host an in-person meetup in Southwest Atlanta to discuss the possibilities for our own creative art responses.
**Thanks to our sponsors we are also able to offer one free copy of the book to each registered attendee. Please include your full address at checkout and we'll ship it to you asap!**
PLEASE NOTE: In order to accommodate covid-19 safety measures, in-person attendance will be limited to no more than 15 people at each monthly session and all guests will be required to wear a face mask while inside the venue.
Closed captions are provided for all recordings. If you are in need of a digital or physical accommodation due to a disability, including communication in an alternate format, please contact our Founder, Constance, at Info@cSArtsHaven.com
Funding for this program is provided by the Fulton County Board of Commissioners.
Financial support provided by Alternate Roots (in partnership with the Andrew W. Mellon Foundation).
______________________
DEAR SENTHURAN by Akwaeke Emezi. Copyright © 2021 by Akwaeke Emezi, used by permission of The Wylie Agency LLC.