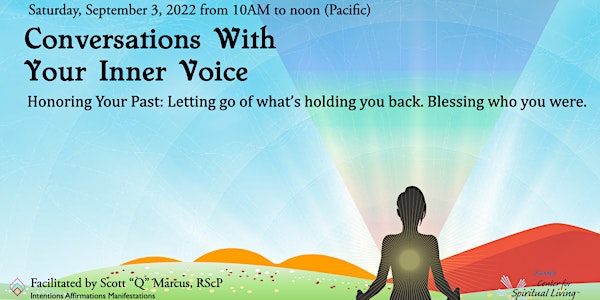 Honoring Your Past: Gracefully Letting go of What Holds you Back
Instead of blaming yourself and others for past mistakes, replace it with forgiveness and release.
Refund Policy
Contact the organizer to request a refund.
Eventbrite's fee is nonrefundable.
About this event
If guilt and regret were motivational, we'd all be happier, healthier, and more successful.
It just doesn't work. It never has. It never will.
More importantly, it's toxic to a happier and better life.
So, why do we continue to beat ourselves up for our past?
The answers are many. Some of which are:
We believe blaming ourselves motivates us to do better
We have accepted the negative messages we received while growing up
We have been taught that to be proud of ourselves is "conceited"
We believe we need to be perfect to be accepted
We focus on where we "messed up" while missing our successes
In this inspiring, motivational, uplifting session, we'll take a gentle, supportive look at the ways in which we've spoken to and about ourselves and determine if we've really helped ourselves or held ourselves back.
We will also be able to understand the motivation behind why our parents or other early influencers might have said hurtful things to us - while being able to let those go and feel closer to them.
In the end you will better appreciate your skills and gifts, feel closer to those in your past, and be more empowered and at ease with the "real you."
The session's format is:
Quick recap of the last session
Setting Intentions
Simple, easy meditation(s)
Breakout rooms & group discussions
Main Topic presentation
A bit of light writing
Setting goals and action plans
Discussion throughout
This session has even more interaction and group engagement than the previous session, leading to deeper, more powerful insights.
On September 3, we will focus on:
The words our parents and others used to create who we are - and why
The motivation behind negative self talk and how to change it
Replacing negative images about ourselves with more encouraging ones
Blessing and releasing past negative self-talk
Joyfully accepting the forces that made us
When the workshop is over, you will:
Feel closer to those in your past
Release negative attachments to who you used to be (or never really were)
Be more at peace with who you are now
Understand the motivation behind negative self talk
Help break the cycle for the future
Develop supportive relationships
The session is perfect for you if you:
Beat yourself up over small mistakes
Use painful self-talk
Hold resentment towards your parents and other early caregivers
Enjoy meeting open-minded, curious, supportive people
Wonder why you sometimes do what you do
Want to reduce or eliminate negative self-talk
Each attendee gets a free recording of the session.
Your cost is only $19.95 for the full two hours, which include the video, discussion, and all handouts. Discounts are available for the following circumstances. (Blue text is hot links to find out more.)
If finances are a concern, a limited number of scholarships are available and a limited number of "pay what you can" donations are also available. (Enter promo code "donation" on the ticket page.) A percentage of all proceeds will go to the Eureka Center for Spiritual Living.
Please note - promo codes, donations, scholarships, or other special arrangements are only valid for tickets purchased by Thursday, September 1.
Your satisfaction is 100% guaranteed or your money back.