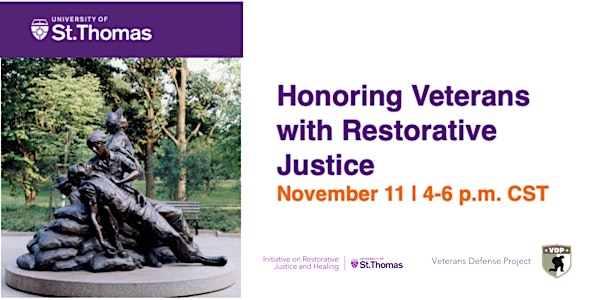 Honoring Veterans with Restorative Justice
How the Minnesota Veterans Restorative Justice Act (VRJA) can meet the need of healing for military veterans.
When and where
Location
University of St. Thomas School of Law 1101 Harmon Place Schulze Grand Atrium Minneapolis, MN 55403
About this event
Watch live on the Veterans Defense Project's Youtube page by copying and pasting this link into your browser:https://youtube.com/live/6zWyUaV-dhY?feature=share . The event will go live at 4 p.m.
On Veterans Day, Nov. 11th, the University of St. Thomas will host a special event "Honoring Veterans With Restorative Justice" at its law school in downtown Minneapolis. The two-hour program, starting at 4:00 p.m., also will be livestreamed around the country. The event is co-sponsored by St. Thomas Law's Initiative on Restorative Justice and Healing and the Veterans Defense Project, a non-profit veterans advocacy group.
The event's purpose is to highlight why so many veterans need restoration and healing from invisible injuries resulting from their military service and the role that veterans' treatment courts and the Minnesota Veterans Restorative Justice Act (VRJA) can play in meeting that need. The legislation was recently featured in an NBC News article.
The first of three panels will address what veterans' treatment courts do, why the VRJA was needed, and how other states could benefit from passing similar legislation. The second panel will cover how the VRJA became law thru bipartisan actions and why veterans everywhere merit similar efforts. The final panel will feature veterans who have graduated from Minnesota veterans' treatment courts and who are inspiring success stories.
A reception will follow the program. 1.5 hours of CLE credits will be applied for.
The event is free but registration is necessary to attend in person or to receive an email with a link to the livestream.