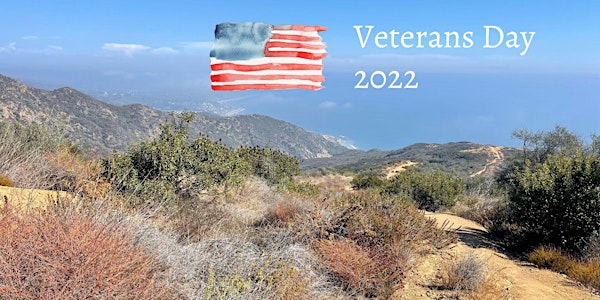 Honoring Veterans Day through Nature and Creativity
Veterans and their families and friends are invited on this group hike to reflect on Veterans Day using different creative art exercises.
When and where
Location
Topanga State Park 20828 Entrada Road Topanga, CA 90290
About this event
Join us on on Saturday, November 12, the day after Veteran's Day, to connect and celebrate the service of all U.S. Military Veterans.
We will embark on an easy to moderate 2 mile group hike in Topanga Canyon State Park. Along the way, the group will be led in a few art exercises intended to connect with different creative callings and ways of expression.
-Reflection Rocks: Along the way, find a rock. Choose a word of what Veterans/Veterans Day means to you or a name of someone that served and write it on the rock as a keepsake.
-Reading of a Veterans poem at a nice viewpoint. Continue on the hike for reflection of the words.
-Plein Air Drawing: A guided 15 min drawing session of a scenic view. Art supplies provided (paper, ink, colored pencils)
10:30am - Meet at trail head
10:40- Welcome & Commence hike
11:05 - Poetry reading
11:11 - 2 min of silence (as observed on Nov 11 at 11:11am PST)
11:30 to 11:45 - Plein Air Drawing
12:00 - Head back to trail head
12:30 - Reflection Rocks & Final photos
Driving Directions to Topanga SP: From Pacific Coast Highway, travel north on Topanga Canyon Boulevard, pass the post office at the center of "town," then turn right on Entrada Road. Keep to the left at every opportunity until you reach the park's main parking lot (about one mile). From the Ventura Freeway (101), exit at Topanga Canyon Boulevard, drive south over the crest of the mountains and proceed three miles to Entrada Road and turn left. Drive beyond the "Dead Horse" parking lot and proceed to the main parking lot.
Parking is available and is $6 for two hours. This will be reimbursed to you at the trailhead. For more info: https://www.parks.ca.gov/?page_id=629
Important notes: Please bring water, sturdy shoes and sun protection. Families are welcome. Unfortunately, dogs are not allowed at Topanga SP.
Made possible through the generosity of the MRH Fund for Artists and USVAA.