Description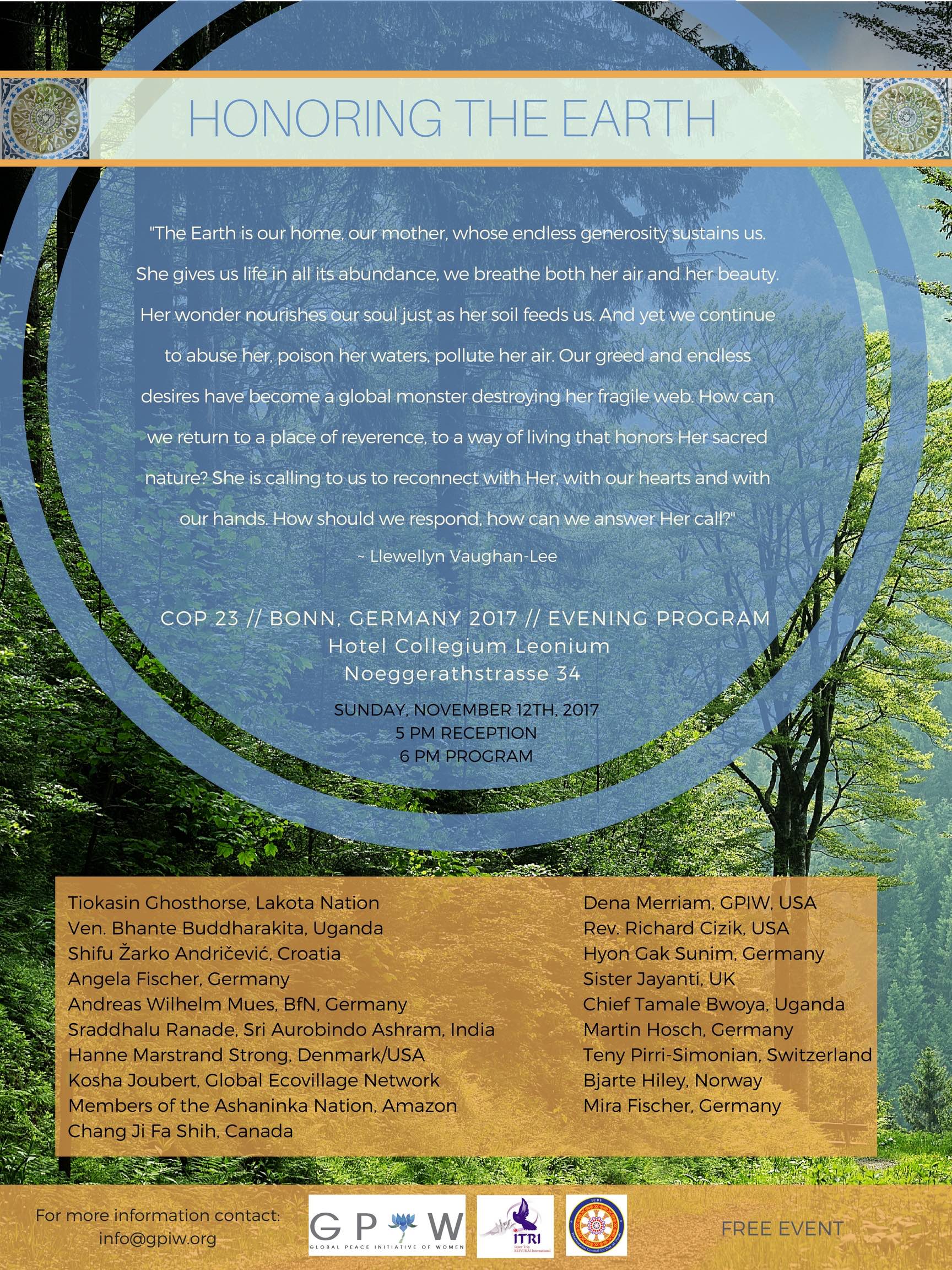 Honoring the Earth
The Earth is our home, our mother, whose endless generosity sustains us. She gives us life in all its abundance, we breathe both her air and her beauty. Her wonder nourishes our soul just as her soil feeds us. And yet we continue to abuse her, poison her waters, pollute her air. Our greed and endless desires have become a global monster destroying her fragile web. How can we return to a place of reverence, to a way of living that honors Her sacred nature? She is calling to us to reconnect with Her, with our hearts and with our hands. How should we respond, how can we answer Her call?
Join members of the International community during the UN Climate Summit, COP23 in
Bonn for an evening of music, movement, words and prayer to the Earth.
Tiokasin Ghosthorse, Lakota Nation
Ven. Bhante Buddharakita, Uganda
Shifu Žarko Andričević, Croatia
Angela Fischer, Germany
Andreas Wilhelm Mues, BfN, Germany
Sraddhalu Ranade, Sri Aurobindo Ashram, India
Hanne Marstrand Strong, Denmark/USA
Kosha Joubert, Global Ecovillage Network
Members of the Ashaninka nation, Amonia River, Amazon
Dena Merriam, GPIW, USA
Chang Ji Fa Shih, Canada
Rev. Richard Cizik, USA
Hyon Gak Sunim, Germany
Chief Tamale Bwoya, Uganda
Sister Jayanti, UK
Teny Pirri-Simonian, Switzerland
Bjarte Hiley, Norway
Mira Fischer, Germany
Sunday, November 12th, 2017
5:00 PM - 6:00 PM

reception
6:00 PM - 8:00 PM

program


Hotel Collegium Leonium
Noeggerathstrasse 34 · 53111

Bonn