Honoring Our Heroes: Greater Boston R.E. Industry Gives Back
Description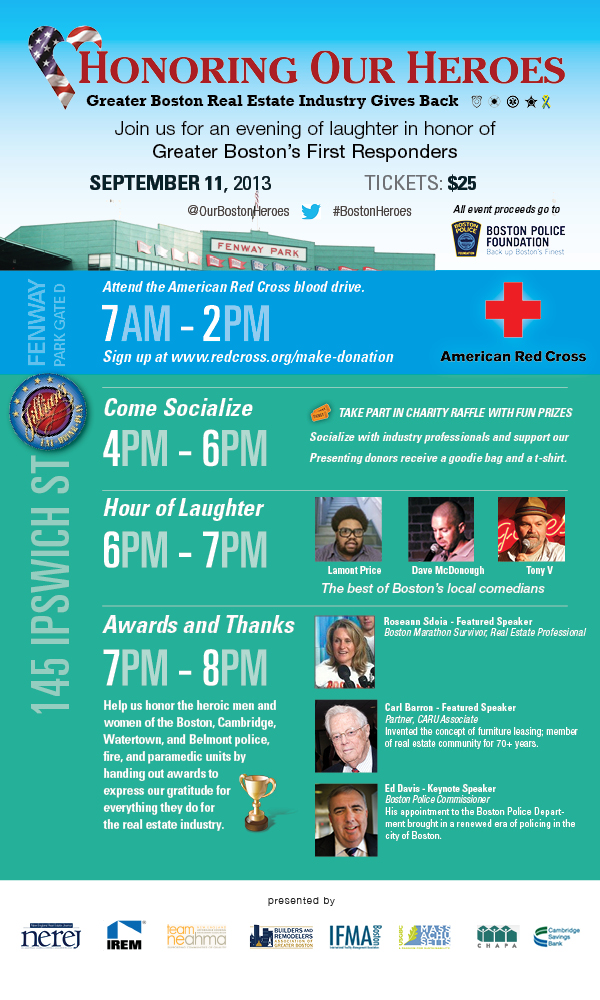 On September 11th, 2001, our nation faced its worst foreign attack on U.S. soil in our history. It changed America forever... Every year we give tribute to the brave men and women who risked their lives for others, the greatest sacrifice one can give in this life.
Following the tragic bombings of the Boston Marathon and its resulting aftermath, the resiliency, dedication and quiet heroism of our first responders has continued to shine. These men and women put themselves in harms way so our collective communties can be safer.
This September 11th, the Greater Boston Real Estate Community is coming together as one to say a BIG THANK YOU to our local first responders.
Come celebrate this day together to honor the memories of Our Heroes past, present, and future!
There are a number of ways that you can contribute and participate in this event.
Attend the American Red Cross' blood drive, hosted at Fenway Park, from 7:00 AM
to 2:00 PM. REGISTER: www.redcrossblood.org/make-donaton
DONATE RAFFLE PRIZES (SPORTS OR CONCERT TICKETS, GIFT CARDS, YOUR PRODUCT/SERVICES, ETC...)
Support the event by purchasing a sponsorship listed on this page.
Purchase an EVENT ticket and join us to celebrate "A Night of Laughter" as we express our incredible gratitude to Boston's Heroic First Responders during the closing ceremony, as we honor the men and women of Cambridge, Watertown, Belmont, and Boston.

For more information, questions or comments, please contact Nancy Reno: nreno@hmrproperties.com (860) 324-3271
Organizer of Honoring Our Heroes: Greater Boston R.E. Industry Gives Back
New England Real Estate Journal (NEREJ), Institute of Real Estate Management (IREM Boston) New England Affordable Housing Association (NEAHMA), International Facility Management Association (IFMA Boston), United States Green Building Council (USGBC MA), Citizens' Housing And Planning Association (CHAPA), Cambridge Savings Bank, Builders and Remodelers Association of Greater Boston (BRAGB)