Refund policy
Contact the organizer to request a refund.
Eventbrite's fee is nonrefundable.
Black History Month honoring past & present great leaders through artistic movement featuring dance, storytelling, and theater.
About this event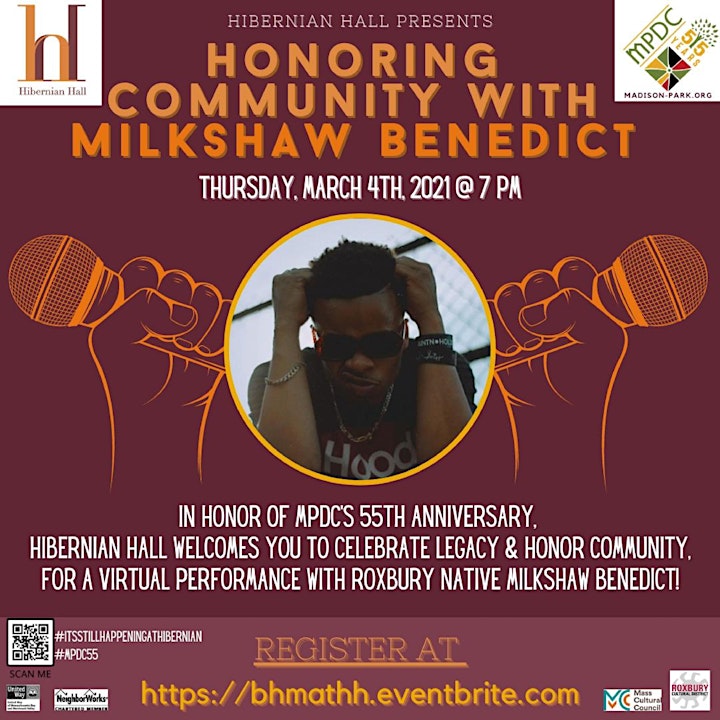 BLACK HISTORY MONTH CELEBRATION WITH HIBERNIAN HALL
Honoring past & present great leaders through artistic movement featuring dance, storytelling, and theater in honor of MPDC's 55th Anniversary & Black History Month.
March 4, 2020 @ 7:00 pm
FEATURE ARTIST | MILKSHAW BENEDICT
Yuuuurp my name is Milkshaw Benedict, hailing from Roxbury Massachusetts. My mindset mirrors the community I'm from. Historically Roxbury has always been unique in style and breeds quality people constantly. I grew up the son of a Jamaican DJ and a couple of doors down from the Maurice Starr building, where New Edition used to record. Growing up I was exposed to so many different types of music. When I was real young it was a lot of old school hip hop, gospel, funk, r&b, and soul, reggae, and old school dancehall. By far my favorite artist of all time was Michael Jackson. I often imitated his dance moves and dreamed to be just as cool of an artist as him. Some other influences include Stevie Wonder, James Brown, Busta Rhymes, Lauryn Hill, Kirk Franklin, Jay Z, Earth Wind and Fire, Missy Elliot, and a Tribe Called Quest. My perspective or approach to music has always been different mostly because of the amount of artists I was exposed to young but also everything I've experienced in my life. Life moves fast in my city and I was involved in a lot of different crowds, programs, parties, and events. Wanting to share this experience and colorful feeling with others is what led me to want to be an artist. With everything I've gone through I believe I can inspire the world to embrace their differences and appreciate the variety of flavors and people the world provides. My ability to understand feelings, my mindset, and my work ethic are what gives me the confidence to believe I'm unique enough to succeed in my career. I believe in myself. And I hope to inspire others to believe in themselves also.
**Black History Month Celebration will be available for online viewing via YouTube.
RSVP with your donation to Hibernian Hall to receive the private YouTube link.**
BHM celebration is made possible in part by MPDC Hibernian Hall, Roxbury, and support from art fans like YOU!
Produced by HH Team: Olawumi Akinwumi, producer + Asad Hardwick, Film and Edits