Description
Luminary Leaders 2018 | Presented Each Year by ENCLAVE for Entrepreneurs Foundation I Honoring Inspiring Individuals Who Earned Awards or other Recognition in Various Fields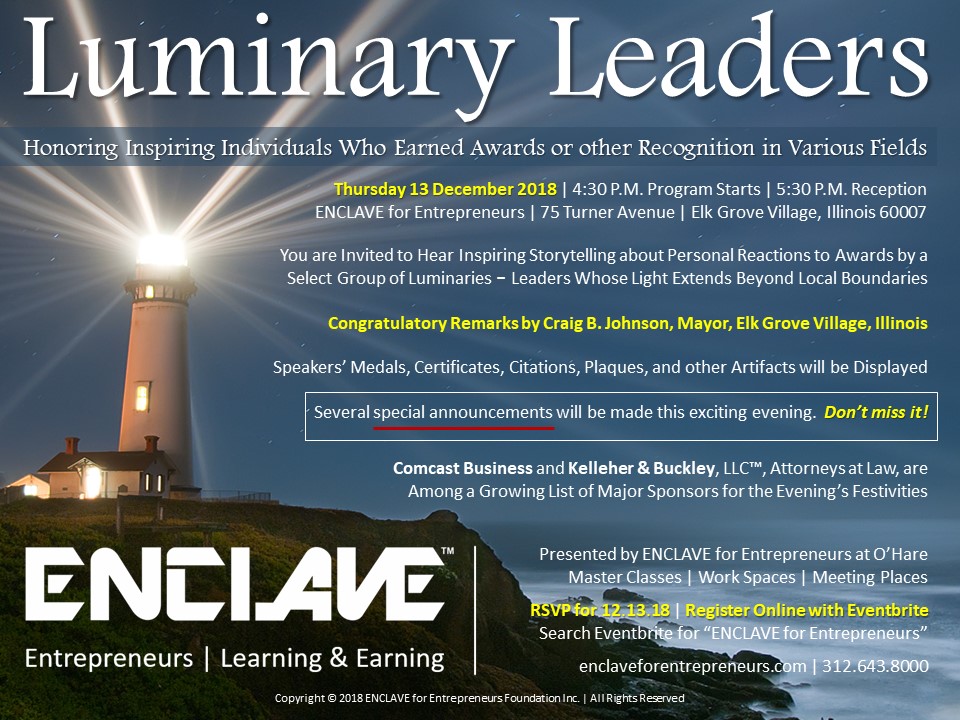 Exceptional Storytelling about Rarely Revealed or Discussed Personal Reactions to Awards

Congratulatory Remarks by
Craig B. Johnson
Mayor, Elk Grove Village, Illinois

Medals, Ribbons, Certificates, Citations, Plaques, Letters and other Significant Artifacts will be Displayed

Exciting Special Announcements Will be Made!

Don't miss it!

Thursday 13 December 2018 4:30 − 6:30 P.M.

ENCLAVE Building | 75 Turner Avenue
Elk Grove Village, IL 60007
(Near Intersection of Devon Avenue and Arlington Heights Road)

Metra Train from Chicago's Union Station to Itasca Station, then Easy 1.3 mi. Uber Ride

FREE Parking On-Campus

---
ENCLAVE for Entrepreneurs at O'Hare International
Where entrepreneurs bring more to life.™
ENCLAVE for Entrepreneurs at O'Hare is a membership organization for entrepreneurs and their influencers; formed as a public-private partnership among the municipality of Elk Grove Village, Illinois, Elk Grove Village Bank & Trust, a Wintrust Community Bank, and ENCLAVE for Entrepreneurs Foundation Inc., a not-for-profit economic development education initiative, the Managing Partner.

Co-founders of the Foundation: John R. Dallas, Jr., CEO, David E. Morrison, Jr., M.D., and David E. (Daven) Morrison III, M.D.

enclaveforentrepreneurs.com
info@enclaveforentrepreneurs.com
Twitter and Facebook: @ENCLAVEORD (Please "Like" and "Follow" ENCLAVE O'Hare on both Twitter and Facebook.)

Comcast Business is among Founding Sponsors for ENCLAVE O'Hare, providing high-speed Wi-Fi service and various types of contributed equipment. Gratitude is hereby expressed to all Members, Sponsors, and other contributors to ENCLAVE O'Hare. Thank you.
Copyright © 2017-2018 ENCLAVE for Entrepreneurs Foundation Inc.
All Rights Reserved Worldwide