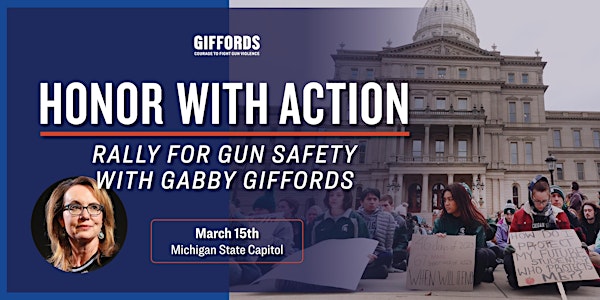 HONOR WITH ACTION: Rally for Gun Safety with Gabby Giffords
Join Gabby Giffords at the Michigan State Capitol as we demand action on gun safety and an end to preventable gun violence.
By Giffords: Courage to Fight Gun Violence
Date and time
Wednesday, March 15 · 11am - 12pm EDT
Location
Michigan State Capitol 100 North Capitol Avenue Lansing, MI 48933
About this event
This time will be different. But only if we make our voices heard.
Join us on Wednesday, March 15, as we rally in support of historic legislation moving through the Michigan State Legislature. Starting at 11am, we will hear from advocates, survivors, students, and lawmakers.
It's beyond time to honor all victims and survivors of gun violence with action—from the students of Oxford High School and Michigan State University to the countless Michiganders who have lost their lives to daily community violence.
We demand universal background checks, extreme risk protection orders (aka "red flag" laws), and safe storage requirements. Let's get it done!
We encourage everyone to get there early—program starts at 11am. RSVP and we'll see you there.
We're grateful to stand with our partners: End Gun Violence Michigan, Everytown for Gun Safety, Giffords Gun Owners for Safety - Michigan chapter, the Jewish Democratic Council of America, March For Our Lives Michigan, Moms Demand Action - Michigan chapter, Progress Michigan, Students Demand Action - Michigan Chapter, Michigan Education Association, and Brady: United Against Gun Violence.