Honor Integrity & Mastery (HIM) Workshop for Men

Friday, May 11, 2012 at 7:00 PM

-

Sunday, May 13, 2012 at 8:00 PM (PDT)
Event Details
At the Heart of every man is a Hero
He's a lover and a poet, a warrior, a wizard, a king, and a sage with a burning desire to make a difference.
What would your life look like if you met every challenge with confidence, courage, wisdom and authority? How would that shape your future?
I know that you already have courage, wisdom and integrity.
It is a place in your heart that you live from. (HIM) is about mastering these distinctions in your everyday life and being the man you have always wanted to be.
"Honor has not to be won - it has only not to be lost."
Arthur Schopenhauer (1788-1860) Germany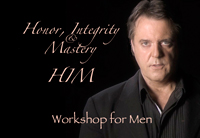 At the end of the day there's just no getting around it: Honor and Integrity are the source of freedom and fulfillment.




I designed (HIM) because the path of honor brings out the best in men. I designed it because I needed it! Because your greatness is needed by the people you love. 




HIM is a unique progression of challenges, exercises and inquiries that induce accelerated states of rapid and enduring transformation.
• You will access your innate wisdom and the ability to quickly resolve issues in your careers and relationships from a place of Honor & Integrity
• You will complete the past with your parents (living or not) and have a newfound freedom and respect for them
• You will gain a deeper understanding and respect for yourself and other men
• You will be more confident and effective in all areas of your life where you currently feel constrained

* Discover what women really want and be a man that can give it to her.

* Be a man women love to be around and other men instinctively respect.

  There are men we know and men we trust with our live. Most of us can count them on one hand
At (HIM) you will
• Create bonds with honorable men that will expand your possibilities for success and personal development for the rest of your life
• Have a lot more fun just being a man.
• Men are Hilarious – you will "get off it" - "lighten up" and embrace your inner fool

There is a purpose to your life. Most people never discover it until it's too late.
Well the truth is: It's never too late!

In Honor Integrity & Mastery (HIM) you will see yourself in a whole new light and begin to make choices in your life that are aligned with your higher purpose

I believe every man wants to contribute his unique gift to the world and leave a Legacy for future generations.

Humanity is indebted to honorable men like Gandhi, Martin Luther King, Ben Franklin, Rumi, Abe Lincoln, John Kennedy, Hafez and Mandela.

Their names are etched in our consciousness because they gave it all.They didn't wait until they were good enough to change the course of history. Honorable men have repeatedly shown that true greatness is in ordinary men like you and me.

The Honor Integrity & Mastery (HIM) Workshop humbly stands on the shoulders of giants

I invite you to discover not just a New You but with the Real You.
I challenge you to a turning point in your life.
I'm inviting you to the Honor Integrity & Mastery (HIM) workshop on

May 11- 13th, 2012

I'll be there with some of the best men you'll ever want to meet.

If you are thinking about registering for (HIM), let me give you a clue -

being decisive, getting out of your head, trusting your gut and "being in action" are only a small part of what you'll master at (HIM).

If you are serious about mastering your life and being the man you've always wanted to be this is where it begins.


Honor Integrity & Mastery (HIM)
Friday, May 11th – 7:00pm to Sunday, May 13th - 8pm - 2012


To make it easy I'm offering a special $200 scholarship expires at 5pm (PST) March 30th, 2012
Register online or by phone and mention the code-name: "HonoringMen"

Tuition: $625.00 for a limited time: $425.00

Call Embrace Growth now at 310 460-2600 and mention the "HonoringMen"scholarship: $475.00

"Join me for a weekend of Discovery, Training, Challenge and Insight into the true nature of Men. Discover your authentic Masculine heart." - Gregory Morgan

See my videos on YouTube at Trainer749

The Honor, Integrity & Mastery Workshop is designed to identify and teach mastery of the principals that are at the heart of manhood.

Ultimately, you will come face to face with the man you are and find your love and respect for him and own your power.

Even if you have previously done some "Men's Work", the Honor, Integrity & Mastery (HIM) workshop will be even more profound for you. This is a life-altering event.

Honor, Integrity & Mastery (HIM) honors the traditions of ancient wisdom while forging a future that is relevant to the men of today.
When & Where

SHERATON GATEWAY LAX HOTEL
6101 W. Century Boulevard
Los Angeles, CA 90045


Friday, May 11, 2012 at 7:00 PM

-

Sunday, May 13, 2012 at 8:00 PM (PDT)
Add to my calendar
Honor Integrity & Mastery (HIM) Workshop for Men