Location
Honolulu Museum of Art
900 South Beretania Street
Honolulu, HI 96814
Description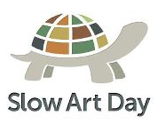 Honolulu Museum of Art
Slow Art Experiences scheduled for 10 a.m. and 2 p.m.!

The Honolulu Museum of Art is excited to celebrate its first Slow Art Day along with museums around the world. Slow Art Day is a worldwide celebration of art that encourages people to look at art SLOWLY – and thereby experience art in a new way. You can read more about Slow Art Day and its mission at http://SlowArtDay.com.
The museum will offer two sessions at 10 a.m. and 2 p.m., followed by docent-led discussions at 11 a.m. and 3 p.m. in the Palm Courtyard. Iced tea and light refreshments will be provided.
Five specially selected works from the museum's permanent collection will be the focus of the experience designed to spark thought-provoking conversation. Free with museum admission.
More info about Slow Art Day movement: facebook | twitter | tumblr