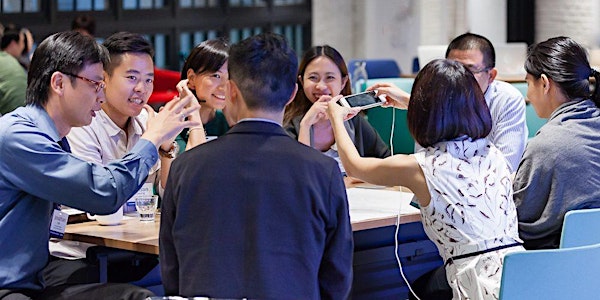 Hong Kong Sustainable Seafood Symposium 2023
This is the 3rd Hong Kong Sustainable Seafood Symposium and the theme is: Safeguarding seafood for future generations – time to catch up!
By Hong Kong Sustainable Seafood Coalition
Date and time
Fri, 16 Jun 2023 09:00 - 18:00 HKT
Location
Blueprint Dorset House 979 King's Road Hong Kong, HKI Hong Kong
About this event
Tentative line-up
9:00-9:30
Registration and coffee
9:30-10:00
Welcome and recap of the vision, mission and achievements of the Hong Kong Sustainable Seafood Coalition (HKSSC)
ADM Capital Foundation
Jacqui Dixon, HKSSC Steering Committee member and Technical Advisor to the HKSSC
Richard Ekkebus, Director of Culinary Operations and Food & Beverage, Mandarin Oriental Landmark Hotel
10:00-12.00 Global and APAC focus - taking stock and setting the scene.
Global progress towards sustainable seafood – the numbers (Leonardo Pradela, Program Officer, Environment Program, Walton Family Foundation - online presentation)
Regional import policies and regulations on illegal, unreported, and unregulated fishing (IUU) (Wakao Hanaoka, CEO, Seafood Legacy, Japan)
Addressing the gaps in seafood assessments in China – China Sustainable Seafood Assessment (CSSA) (Songlin Wang, President, Qingdao Marine Conservation Society, China)
The Traceability Challenge: Tools and approaches for seafood due diligence, traceability, and transparency:
1) PAS 1550 risk assessment approach to tackle IUU in supply chains (Huw Thomas, HKSSC Steering Committee, Director - 3 Pillars Seafood Ltd, and consultant to the Global Fishing Watch, GDST and The Pew Charitable Trusts)
2) Global Dialogue on Seafood Traceability (Gunther Errhalt, Asian Market Development Lead, Global Dialogue on Seafood Traceability (GDST)
3) Trusted Seafood - a web app. to tackle the naming and transparency challenges of seafood supply chains in Asia and improve accessibility to sustainable supply (George Woodman, HKSSC Steering Committee and Founder Trusted Seafood)
12.00-13.00
Lunch
13.00 -16.30 Setting corporate policies and targets for Hong Kong and Macau and dealing with problematic species.
Sustainable seafood corporate policies and targets – trends from around the world:
- Global trends (Huw Thomas, Director, 3 Pillars Seafood Ltd)
- Japanese market trends (Wakao Hanaoka, CEO, Seafood Legacy)
- Hong Kong and Macau market trends:
Panel discussion
1) Joshua Wong, Head of Sustainability, The Hongkong and Shanghai Hotels, Ltd.
2) Makiko Karasawa, Seafood Specialist, Regional Business Development Manager, Indoguna (Singapore) Pte Ltd / Food Services APME
3) Janina Pilgrim, Social Impact Manager, Rosewood Hotel Group
4) Ruby O, Chairperson, The Society of Food and Environmental Health (Macao)
5) Adrian Copeland, General Manager & Territory Director, Sodexo Hong Kong
6) Gary Thomas, Head of Culinary Product and Process, Cathay Pacific Catering Services
7) Keilem Ng, General Manager – Sustainability, Link Real Estate Investment Trust
The challenge of Chinese and Japanese cuisine species: insights from an Executive Chef (Simon Guthridge, Executive Sous Chef, Mandarin Oriental Hong Kong)
New technology developments for traceability applied to live fish trade and problematic species (Edmond Wong, CEO Fish ID Pty Ltd and ILST Pty Ltd)
Final session will be a workshop for speakers and audience to discuss policies and targets in the Hong Kong and Macau contexts and where improvements are needed with the aim to get hotels and procurement teams aligned on corporate policy / targets.
16.30 – 18.00
Networking and drinks, canapes
Sponsors of the event: The Swire Charitable Trust, JBC Foods Ltd, Swire Properties Ltd, Cathay Pacific Airways Ltd, and ADM Capital Foundation.