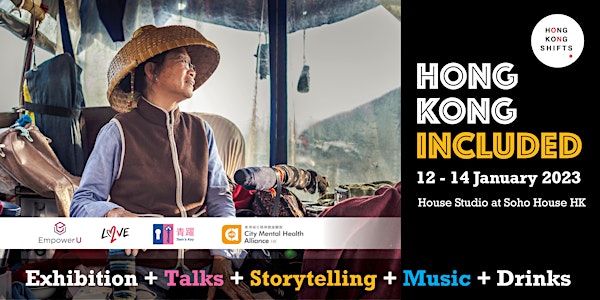 Hong Kong Included - Exhibition + Storytelling + Music + Drinks
Join our signature event, check our stories, meet new people and grab a drink to celebrate social inclusion and the power of storytelling!
When and where
Location
House Studio, 1/F Soho House 33 Des Voeux Road West Hong Kong, HKI Hong Kong
Refund Policy
Contact the organizer to request a refund.
About this event
Our signature event, Hong Kong Included, is back!
We are thrilled to invite you to our upcoming exhibition and community event at the House Studio from 12-14 January 2023. In the past three years, Hong Kong Shifts has been whizzing around all corners of the city to source stories of strength, positivity and resilience from people who make this city tick, discreetly in the background.
Discover our latest collection of community stories, learn from inspiring NGO guest speakers, get involved in fun and interactive storytelling activities, make new friends, enjoy some good music and drinks…and, perhaps, stumble upon a surprise or two!
The theme for this year's event is: Empowerment through Storytelling. What is your story? When do you get to tell your story? What is their story and why does it matter? What is the power of storytelling and how can it help us live happier lives and strengthen bonds in our living and working environments? Come join us and our community partners EmpowerU, Love 21 and Teen's Key to celebrate social inclusion, human connection and the power of storytelling! City Mental Health Alliance HK will share their perspectives on the relevance of inclusivity and connection for mental health in the workplace.
Come and meet them
我們的特備活動—Hong Kong Included 回來了!
我們誠意邀請你在 2023年1月12日至14日 前來 House Studio參與我們的展覽活動。過去三年,Hong Kong Shifts走訪了這城市的大小角落,在一個個默默支撐著城市運作的人身上,收集了許多堅韌、積極和有毅力的故事。
來細讀我們新一期的人物故事,聆聽慈善機構講者的有趣分享,參與互動的講故仔活動,認識新朋友,享受好的音樂和飲品⋯⋯或許,你還會遇上一兩個驚喜!
今年活動的主題是——故事帶來的力量。你的故事是怎樣的?你在什麼時候有機會講述自己的故事?他人的故事又是怎樣的?有何意義?什麼是故事的力量,它怎樣有助我們過一個更快樂的人生,在社區和工作環境成就更緊密的關係?來跟我們以及社群伙伴 EmpowerU、Love 21 和 Teen's Key(青躍)一起支持社會共融、真誠交流和講好故事!香港城市精神健康聯盟(CMHA HK)將會分享他們的觀察,講解共融和交流怎樣影響人們在工作環境的精神健康。
來跟他們交流吧!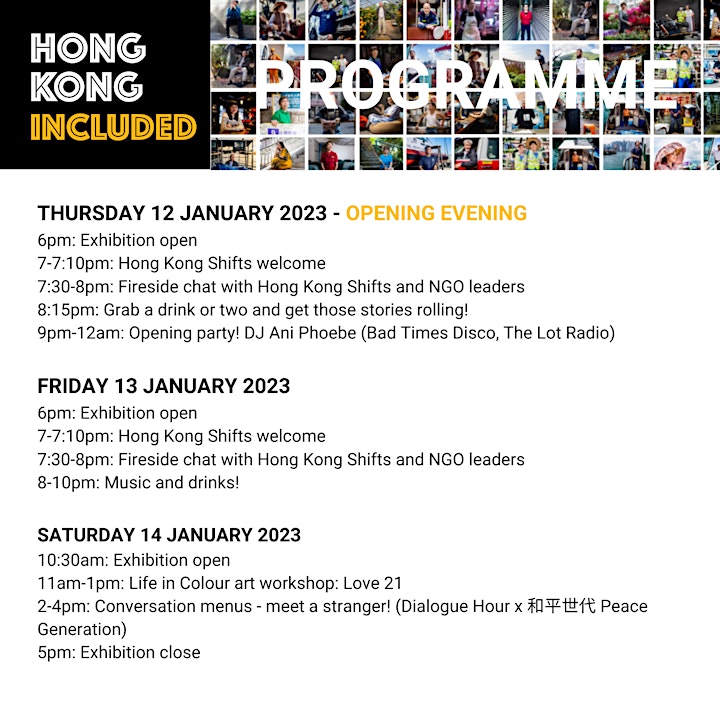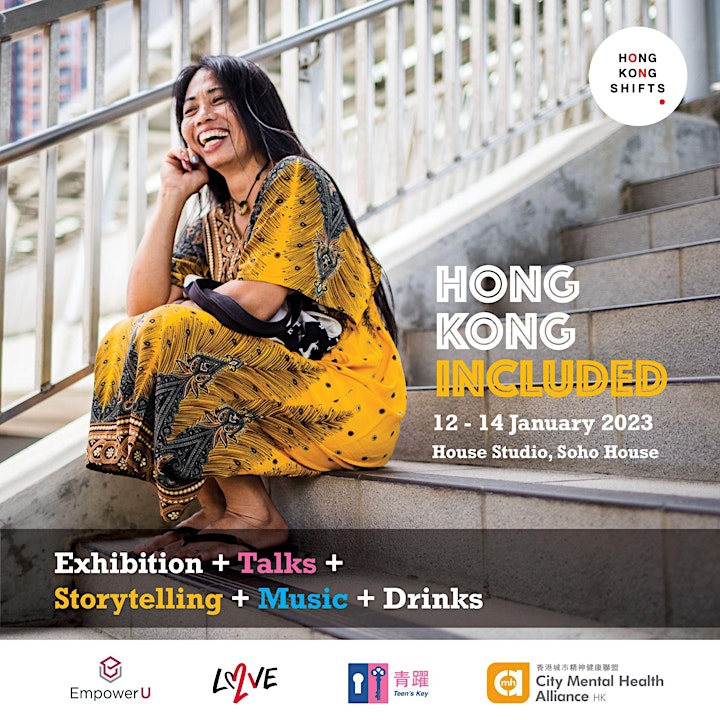 A FEW MORE BITS AND BOBS - PLEASE READ!
This is a not-for-profit event. The proceeds of the tickets will go fully towards covering the costs of producing the event. There will be a cash bar at the venue - please join us for a drink or two!
You will be asked to scan the LeaveHomeSafe App at Soho House and show your event ticket for registration. We will update this page closer to the event date based on the latest Covid rules.
We intend for this to be a safe and inclusive environment and we will not tolerate any disrespectful or inappropriate behaviour.
We can't wait to meet you - let's get this party rolling! 
還有一些事項,請看!
這個一個非牟利活動,門票收入將直接用於支付活動開支。場地將有收費飲品提供,歡迎享用!
你會需要掃描安心出行,並出示門票以進入Soho House。我們會在活動前的時間,按最新防疫規定來更新這裡的資訊。我們希望活動在安全共融的空間裡舉行,謝絕任何無禮或不當行為。
我們很期待見到大家,一起來吧!