Honest Accomplice Theatre at BC: Performances, Panels & Workshops
Description
The LGBTA and the LGBTQ Resource Center are pleased to welcome back Honest Accomplice Theatre to Brooklyn College for a month-long series of events, starting with the presentation of their most recent show: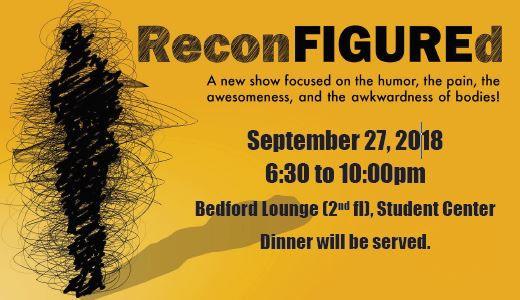 We live in our bodies. They enable us, constrain us, and sometimes define us. As women and trans people our bodies are the objects of much attention, discussion, politics and more. Through the journeys of 7 people, ReconFIGUREd examines "the body" with a fresh eye, and unveils the realities of what it means to live in and with female and trans bodies.
A post-performance discussion will be led by the theatre company & the Brooklyn College Health Clinic.
Advance ticketing is required.
---
NATIONAL COMING OUT DAY
OCTOBER 11, 2018
Out at Work
12:30-2:00pm, Bedford Lounge (2nd fl), Student Center
In celebration of National Coming Out Day, Honest Accomplice, with Brooklyn College's Magner Career Center, will facilitate a discussion centered on the topic of being out at work, what that means for different work environments, and how various professionals have found a way to be their full selves at work. Our panelists bring a diverse set of work experience to the conversation. The panel discussion will be followed with a Q&A open to audience members.
As part of the panel, Honest Accomplice will be presenting a selection from their new work, A Chip on Her Shoulder. Created through verbatim interviews and devised scenes, the goal is to shed light on and begin a dialogue around the inequities of the field of Engineering, and also to explore the larger issues of how gender discrimination and harassment can impact individuals and representation within a profession.
Lunch will be served. Pre-registration is not required.
Devising with Honest Accomplice
2:30-5:00pm, Glenwood Lounge (2nd fl), Student Center
Go behind the scenes with Honest Accomplice and learn the basics of how they create their original shows and media. This interactive workshop will provide an overview of HAT's creative process and allow participants to partake in the devising exercises used for generating work. No previous theater experience needed, all are welcome.
Advance ticketing required. Please wear comfortable shoes/clothing.

---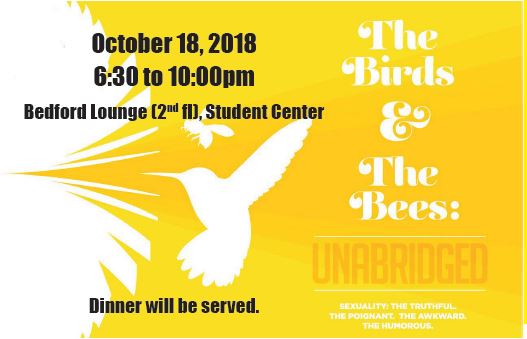 The Birds & the Bees: Unabridged explores the unique – yet interwoven – life circumstances of eight women & trans people forced to confront their own sexuality, realizing that sexuality itself is not simple or clear-cut. Through dialogue, movement, song, humor, and multimedia, the performance examines such themes as partner communication, sexual identity, the de-sexualization of aging women, today's "hook-up" culture, sexual health, and more.
Advance ticketing is required.

---