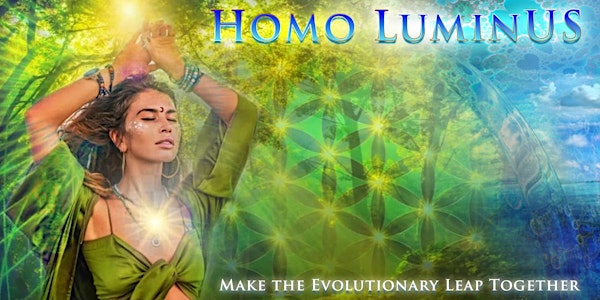 Homo LuminUS ~ Embodied Ascension +Experience-
Journey on a Timeline Leap to connect to your Future Self & embody the frequency of your infinite potential for a new level of manifestation
Refund Policy
Contact the organizer to request a refund.
Eventbrite's fee is nonrefundable.
About this event
Donate any amount from $1
~: Suggested Donation $11 - 44 :~
(The experience will be recorded if you can't makle the livestream)
After 3 months traveling globally, training with Masters, and initiations in a 4-day Dark Room Retreat, I'm excited to offer some never-before-shared activations and techniques
This is a ceremonial virtual council ~ our collective assignment is vibrational alignment to sustain a true shift in consciousness at this imperative time.
The bottleneck of impending global issues are (rein)forcing all of us to consider every moment what we are projecting and reflecting in the Hologram of Mirrors that is our reality.
So it is more imperative than EVER that you learn the secret to vibrate above the plane of duality to make fundamental choices and shifts in your life. I will teach you how to view reality from your Soul's Eyes & sense truth from a higher version of your Self.
Prepare for an immersive experience:
• Guided Journey to entrain with our Multi-Dimensional Selves
• Turning on our 'Noble Leadership' Codes
• Training in etheric travel & holographic projection
Ceremonial processes include:
• Re-scripting your reality & the global Apocalypse narrative
• Becoming a tuning rod for planetary healing
• Activating the Uraeus chakra & crystal triangle in the brain
What if in one 2-hour experience you could totally transform the area of your life that has been keeping you from living your highest timeline?
Donate what feels right to you and get a seat to the magic that unfolds when we commit to ourselves by embarking on an archetypal discovery & collective dreaming to reveal our future state ~ Homo LuminUS !
Find your Time Zone on October 4th:
Hawaii : 2 pm
Los Angeles : 5 pm
New York : 8 pm
London : 1 am (5th)
Sydney : 11 am (5th)
Once you register, you'll be provided a ZOOM link for the +Experience-