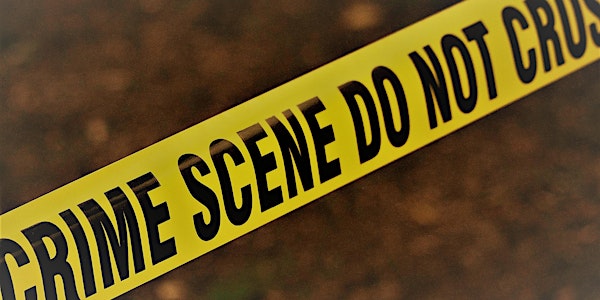 HOMICIDE and MAJOR CASE INVESTIGATIONS (An Online Class)
Understand and employ sound, proven techniques in the investigation of death cases , arson, sexual battery, robbery, etc.
Date and time
Tuesday, June 13 · 10am - 2pm PDT
Refund Policy
Contact the organizer to request a refund.
About this event
TOPIC:
More and more often in court, investigators and uniformed officers, especially in small jurisdictions, are being challenged about their expertise, experience, and if they have any kind of training or certification in certain areas of law enforcement.
Since most states have statutory requirements for post-mortem exams in any suspicious death, it is essential for any investigator who will be preparing a case for a prosecutor to take to court, to understand and employ sound, proven techniques in the investigation of death cases (this is to include suicides, accidental deaths, and unattended natural deaths.
In all aspects of law enforcement, credibility of officers has come under attack unlike any other era in our nation's history. The only way to survive this relentless attack, which is often rooted in misinformation is to get better and more professional at what we do.
The class objectives are:
1) The student will understand the statutory requirements that most medical examiners use involving death investigation and medical examiner/coroner involvement.
2) The student will be introduced to the basic structure of a homicide "squad", and how "lead" investigators conduct investigation with the cooperation of a team or a partner.
3) The student will learn how to use a "lead sheet", as well as the importance of organization and keeping separate notes on each case.
4) The student will understand crime scene security and integrity, and how to prevent contamination and/or unauthorized persons from entering the crime scene.
5) The student will understand the correct, thorough way to conduct an area canvas, and the documentation of same.
6) The student will learn crime scene searches, as well as the examination of dead bodies, to obtain evidence. At least two hours of class time will be delineated for presentation of different types of trauma (i.e., sharp wounds, gunshot wounds, blunt, etc.) and interpretation of same.
7) Students will learn different markers to help identify suicide deaths as opposed to accidental and homicide deaths.
8) Students will gain specific knowledge about the challenges of suicide cases.
INSTRUCTOR: Ramesh Nyberg is a retired police veteran of a 27-year law enforcement career with the Miami-Dade (FL) Police Department. He spent 21 of those years as a Homicide Investigator, working on death investigations of all kinds. He has traveled all over the U.S. and to several countries to interview witnesses and suspects. Ramesh was also a member of the MDPD Homicide's "Cold Case" Squad. Det. Nyberg has authored hundreds of articles for Police, Police and Security News, Law and Order, Law Enforcement Technology, and the Miami Herald. He was an instructor at Miami-Dade's Training Bureau, where he taught Homicide Investigation, Interviews and Interrogations, and Major Case Management. He retired in 2006, and taught Criminal Justice at a Miami high school, before opening his own private investigation agency.
TARGET AUDIENCE: Anyone who handles major felony investigations (Homicide, Arson, Sexual Battery, Robbery, etc.). Also, new detectives and uniform personnel with aspirations to go into an investigative entity.
DATES & TIMES:
Tuesday, June 13, 2023
Class starts at 1:00 PM Sharp – and ends at 5:00 PM (Eastern Time)
COST: $199.00 per person ($3 registration fee + credit card fee if applicable)
LOCATION: THIS IS AN ONLINE CLASS!
• You will be sent a Zoom Link one week prior to the class
• We will send out the class materials electronically (via e-mail)
PAYMENT OPTIONS:
• Check made payable to:
TRAINING FORCE USA, 3681 Loma Farm Road, Tallahassee, FL 32309
• Purchase Order
• Credit Card payment made online
Cancellations and Substitutions:
• Upon submission of this registration, participants are responsible for payment of this course. Please note that if you do not attend, you are still responsible for payment.
• Substitutions may be made at any time by phone, e-mail or online at the registration site.
QUESTIONS: Phone: 850-251-1223 E-mail: contactus@trainingforceusa.com