Celebrating Black Culture, Pride, and Power in Homewood-Flossmoor
About this event
Homewood-Flossmoor Juneteenth Festival 2021
The Homewood-Flossmoor Juneteenth Festival is a celebration of African American culture as expressed through food, music, dance, and arts. Our mission is to provide an environment that celebrates and showcases the uniqueness, power, and endurance of African Americans.
Vision: To have a community that is more knowledgeable and motivated to preserve our cultural heritage. To increase awareness and promote the Black Businesses in the Homewood and Flossmoor communities. We would also like to attract potential residents and business owners by highlighting the diversity and sense of community in our neighborhood.
​Where: Homewood-Flossmoor High School South Parking Lot
When: Saturday, June 19, 2021 | 11:00 AM - 6:30 PM
Parking: Homewood-Flossmoor High School North Building, Parker Junior High School, Flossmoor Village Hall
For more details visit: www.youmatter2.org/juneteenth
SHOP JUNETEENTH: Yard Signs, Window Signs, Porch Signs, T-Shirts, Wine Tumblers + More
COVID-19 & Festival Update - 06.11.2021
As the state of Illinois movies into Phase 5, we will be abiding by the state & CDC Guidelines. Effective Friday, June 11th, the festival will operate at full capacity with NO TIME SLOTS. However, registration is still REQUIRED.
If you are exhibiting any symptoms of COVID-19, please stay home. We will continue to practice social distancing by having markers throughout the festival grounds, as well as having hand sanitizer/hand washing stations, and masks available for all!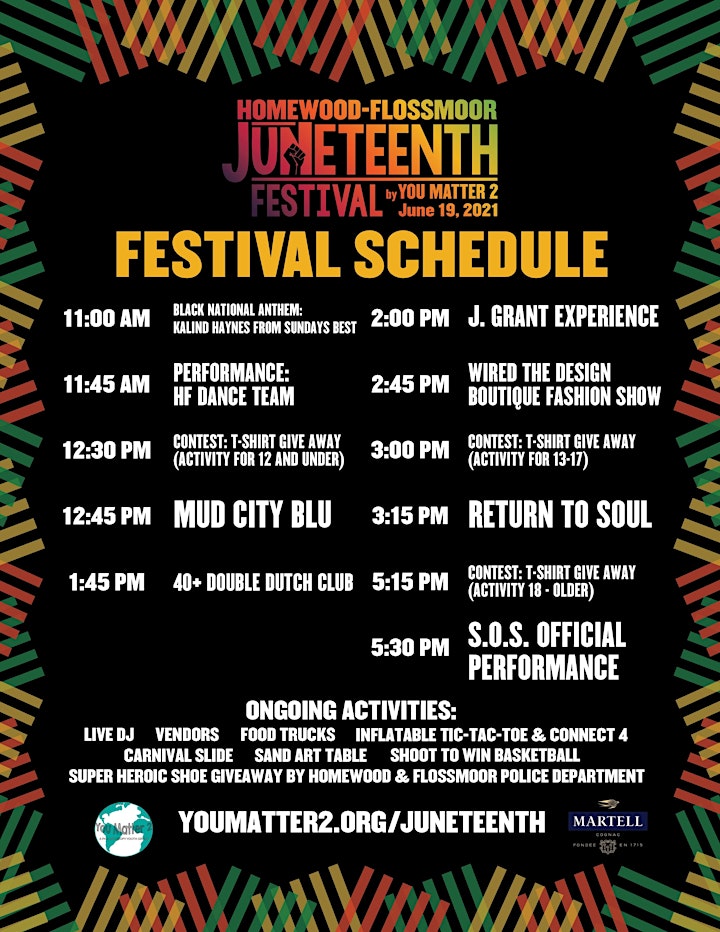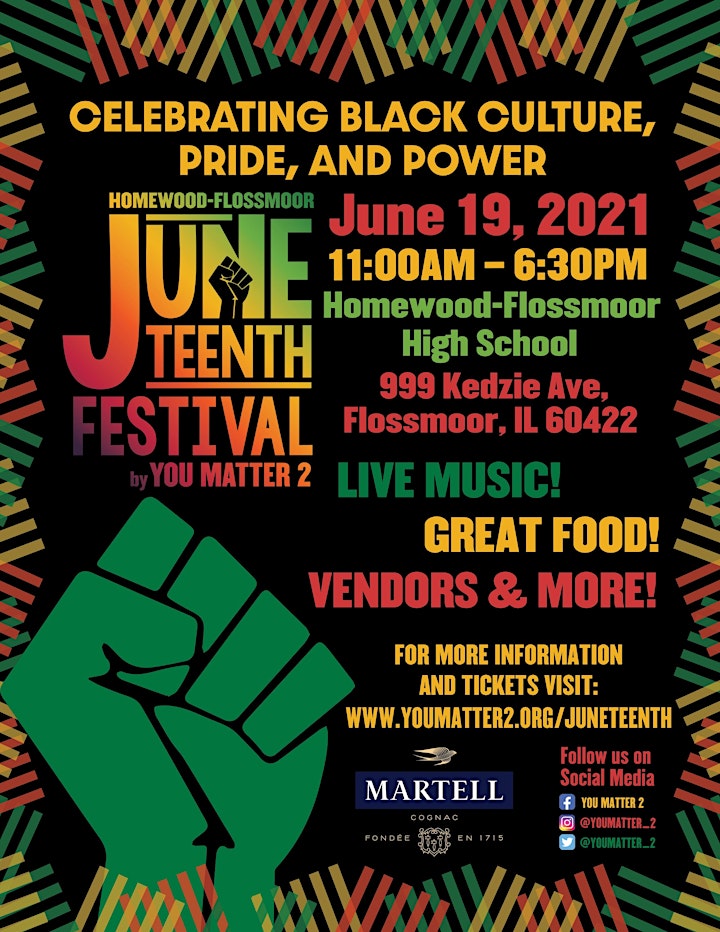 This inaugural festival was organized and is hosted by You Matter 2 in conjunction with the Village of Flossmoor, Village of Homewood, Homewood-Flossmoor High School, and K. Carlton Inc. This festival is sponsored by Martell.
You Matter 2 provides youth with a safe space to develop positive relationships, leadership skills, and discover their passions. Our mission is to provide opportunities for youth to serve and make a difference in their community.
Organizer of Homewood-Flossmoor Juneteenth Festival