Actions and Detail Panel
Homeschool Field Trip
Thu, May 4, 2017, 10:45 AM – 12:00 PM EDT
Description
Attn: The Guided tour now has a waiting list. Please feel free to put yourself on the waiting list. If there are enough people who join the waiting list, I will arrange another guided tour group.
---
Children grades 3 and up can go on the guided tour. Children beneath the 3rd grade level can come in the museum but will take a self-guided tour. We are requesting chaperones to go with the older children whose parents will be on the self-guided tour with their younger children. If you are attending and have older children please let me know if you would be interested in being a chaperone.

By exploring an exhibit of historical artifacts, you'll discover the fascinating story of money—from barter to modern times. You'll also learn about the turbulent history of banking in America and see examples of rare coins and currency.

The museum features a display on the history of money; interactive, multimedia exhibits explaining the Federal Reserve's role in the economy; and a view of the bank's automated vault and cash processing areas. In addition, most group tours include a stop in the bank's boardroom.
A tour of the museum provides in-depth lessons on the role of the Federal Reserve in the U.S. economy.
Learn how and why the Fed conducts monetary policy and how its actions affect your life.Hear about the Fed's important roles in bank supervision and regulation.Get the big picture of the many ways the Fed provides payments system services to help our economy run smoothly and maintain the stability of the financial system.
Then, you can take a look inside our cash-processing operations, where millions of dollars are counted, sorted, or shredded daily. You'll also get a glimpse into the bank's automated vault and see the robotic transports that do the heavy lifting.
All this and more awaits you at the Atlanta Fed's Monetary Museum. (To whet your appetite, take a virtual tour of our collection as told in The Story of Money display.)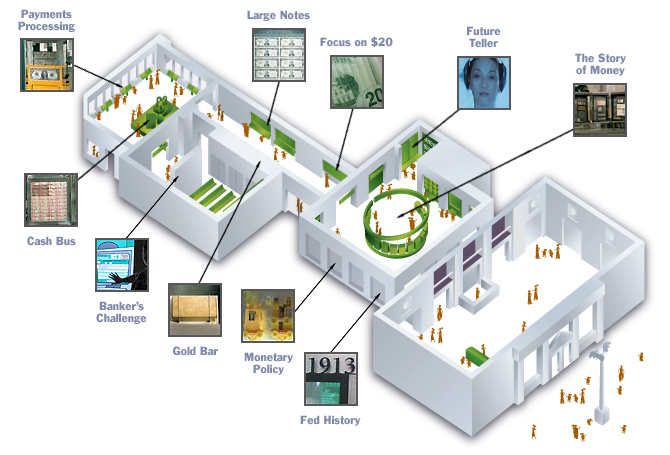 Date and Time
Location
Federal Reserve Bank of Atlanta (Monetary Museum)
1000 Peachtree Street Northeast
Atlanta, GA 30309