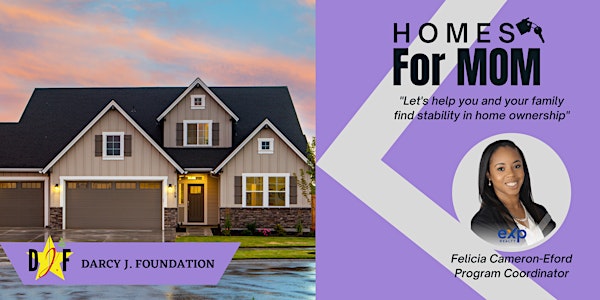 Homes for Mom - Home Buying Seminar Orlando
This ONE OF A KIND real estate seminar was created to assist mothers in the home buying process!
When and where
Location
Grace Alive 1400 North Nowell Street Orlando, FL 32808
About this event
Are you a mother, looking to purchase a home? Have you been told that your credit doesn't cut it? Have you been having a hard time saving up for a deposit? Don't know where to start in this UNBELIEVABLE housing market?
Let the Darcy J. Foundation assist you! Our foundation is 100% committed to helping moms on their home buying journey. Attending the Homes for Mom seminar will get you started by providing all the steps to get you into a home for your family. Our organization is also committed to raising funds to help our families OFFSET their home buying COSTS.
An experts panel will be there to assist you. From credit building, to title, to home inspections: we've got you covered!
These FREE informational workshops were created to support single moms and foster parents with the necessary resources to assist in the process of acquiring a single-family home. Seminars are held with guest speakers that educate families on financial literacy and the process of becoming a homeowner. You families stability is our goal.
Register for this event TODAY! Doors open at 10:00AM!
While ANYONE is welcomed to participate in the FREE seminars, we ask that parents that want to participate in the home buying process, please fill out the application for the program. Please use the link below.
https://darcyjfoundation.org/homes-for-mom/
Real Estate Professionals play a big role in the support of this program. If you are a real estate professional, please visit the link to show your support and join our Preferred Vendors list.
For questions, please email our program coordinators at eford@darcyjfoundation.org.
Visit our website for more information on our Healthy Living Program www.darcyjfoundation.org