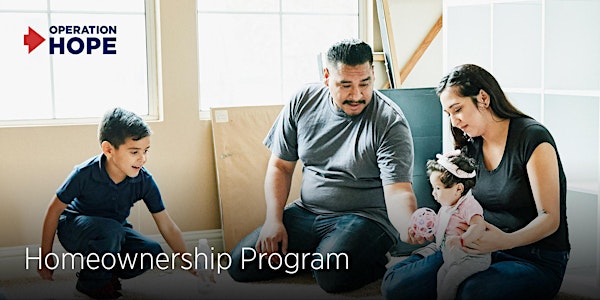 Homeownership Program Orientation Workshop.
Join us at our Homeownership Program Orientation Workshop.
About this event
This FREE workshop is for all who are interested in purchasing a home in the future or are ready now. Feel free to invite friends or family that could benefit from this tremendous opportunity but don't forget to RSVP because seating is limited! You will also have the opportunity to sign up for your one-on-one home-ownership counseling at the end of the workshop.
You will be empowered with the tools, resources, and information on budgeting and credit to help you take the first step in creating a secure financial future.
After registering, you will receive an email with the link to Zoom Conference, please test out your computer settings prior to the day of the workshop, to confirm you are able to log into the site and test the video and audio settings.
Counseling Session - This session is a critical piece of your journey and will further assist you in understanding what programs are available for you and what questions to ask of your lender and realtor. Schedule the one-on-one appointment for any date after the workshop date. If you have any questions, please reach out to the instructor.
To schedule a one-on-one Home-ownership Counseling Session AFTER attending the workshop with the instructor, please follow the link below:
https://cesarmontero.youcanbook.me/
Operation HOPE is the leading global provider of financial dignity education programs. We provide the most powerful education and tools to prepare you for homeownership. Come meet with our experts and get your questions answered!
We cover the following topics:
Assessing homeownership readiness.
The total cost of a mortgage.
Types of loans.
Getting approved for a mortgage.
The homeownership process.
Post funding counseling support.
EVENTS TO BE ANNOUNCED:
Asset Protection:
Why is it important to protect your assets?
What is the definition of assets (Property, Life, and Casualty)?
How protecting your assets can provide you and your family with peace of mind
How protecting your assets can create wealth for you, your family, and future generations
Financial Disaster/Earn Income Tax Credit (EITC)
How the various types of disasters (natural, national, and pandemic) can affect you and your family?
How to be prepared?
How can EITC benefit you and your family?
What are the program qualifications for the EITC?
How to find a VITA site tax preparer ?
Why is the Emergency Financial First Aid Kit important?
Credit.
Understanding your credit.
What makes up your credit score?
Knowing your rights as a consumer.
Establish and rebuild your credit.
Money Management.
The purpose of a budget.
Budget exercise.
Paying off debt and saving money.
Tips to build a savings profile.
Tips of cards.
For more information:
Call 832-537-3454 or email cesar.montero@operationhope.org