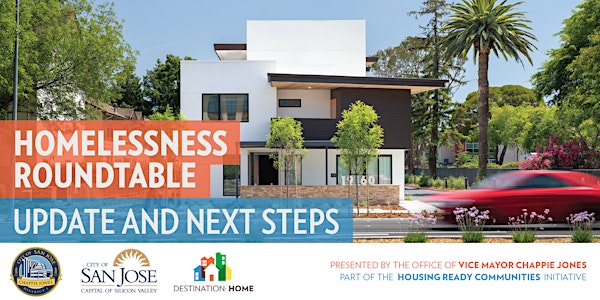 Homelessness Roundtable Update & Next Steps (San José District 1)
Join your neighbors for a pandemic homelessness update, and to continue our work together to prevent and end homelessness in District 1.
Date and time
Monday, November 16, 2020 · 5:30 - 7pm PST
About this event
Join San Jose City Council District 1 neighbors for next steps in our neighborhood conversation about homelessness. Learn more about how you can get involved with your neighbors to join effective community efforts to prevent and end homelessness in District 1 and throughout Santa Clara County.
Agenda to include:
Update on our community's work to address homelessness during the pandemic
Overview of the new Community Plan to End Homelessness
Discussion on why we need supportive housing, how much progress has already been made, and what new housing production goals mean for our community
Active planning on how to be a Neighborhood Ambassador, including identification of neighborhood stakeholders, and development of individual action plans
Join us to learn about our community's work together to address homelessness, find answers to questions you have, and learn how you can take action.
Registration instructions
Registration required. Capacity limited. To RSVP, please register on this Eventbrite page.
Date and location
Monday, November 16, 2020, 5:30-7pm
Online video meeting. Access information to be provided after registration.
Content note
This Update & Next Steps meeting is intended for San Jose District 1 residents who have either already participated in a District 1 Homelessness Roundtable or are interested in getting involved for the first time. We will use breakout groups to provide new participants with an overview of our previous Homelessness Roundtable workshop. If you are new to the Homelessness Roundtable and would like to prepare in advance, please review the VIDEO and TOOLS at housingready.org
About
In collaboration with Destination: Home, the Office of Vice Mayor Chappie Jones presents the San Jose City Council District 1 Homelessness Roundtable. The goal of the Roundtable is to bring together government, neighbors, community groups, businesses, nonprofits, faith communities, and neighborhood associations to increase understanding, engagement, and action on proven solutions to prevent and end homelessness. Paid for by the City of San Jose, this event is part of the Destination: Home Housing Ready Communities initiative. More information is available at housingready.org
Event image
The supportive housing and affordable housing development rendering pictured in the event flyer image is The Veranda, a supportive housing and lowest-income affordable housing development by Charities Housing in Cupertino. These beautiful apartments were developed with support from the County of Santa Clara 2016 Measure A Affordable Housing Bond.
Spread the word
Please invite your District 1 neighbors!
About the organizer
Destination: Home is a public-private partnership ending homelessness in Silicon Valley. Through our collective impact model, we incubate new ideas, advocate for policies, and fund impactful strategies that address the root causes of homelessness and help ensure that our most vulnerable neighbors have a stable home.