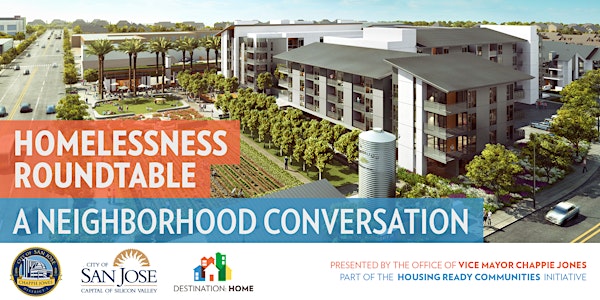 Homelessness Roundtable: Neighborhood Conversation (District 1)
When and where
Location
West Valley Branch Library 1243 San Tomas Aquino Rd San Jose, CA 95117
Description
Join

San Jose City Council District 1 neighbors for a neighborhood conversation about homelessness. Learn about how our community is working to address homelessness, and how you can get involved to prevent and end homelessness in District 1 and throughout Santa Clara County.
Have you ever asked...
What is the Community Plan to End Homelessness?

What is supportive housing, and how does it work?

How do we work to both prevent and end homelessness in San Jose and throughout the county?

Where are new housing developments moving forward and what will they be like?

How will new housing be an asset for our neighborhoods?
If you are asking these and other questions about homelessness and housing, then this conversation is for you. Join us to learn about our community's work together to address homelessness, find answers to questions you have, and learn how you can get involved.
Registration instructions
To RSVP, please email Diana Garcia at diana.garcia@sanjoseca.gov or call 408-535-4901

Registration required. Capacity limited. Snacks provided.
In collaboration with Destination: Home, the Office of Vice Mayor Chappie Jones presents the San Jose City Council District 1 Homelessness Roundtable. The goal of the Roundtable is to bring together government, neighbors, community groups, businesses, nonprofits, faith communities, and neighborhood associations to increase understanding, engagement, and action on proven solutions to prevent and end homelessness. Paid for by the City of San Jose, this event is part of the Destination: Home Housing Ready Communities initiative. More information is available at housingready.org
Date and location
Tuesday, January 21, 2020
6:30 - 8:00 PM
West Valley Branch Library
1243 San Tomas Aquino Rd, San José, CA 95117
Additional workshop opportunity
Thursday, January 16, 2020
6:30 - 8:00 PM

Cypress Senior Center
403 Cypress Ave, San José, CA 95117
Information at http://d1.housingready.org
Content note
This event will include the Housing Ready Communities Intro Workshop. If you have participated in the intro workshop already, this event will include very similar content. To take your involvement to the next level, email action@housingready.org and ask about our Neighborhood Ambassador program.
Flyer image
The supportive housing and affordable housing development rendering pictured in the event flyer image is Agrihood, currently being developed by The Core Companies with support from the County of Santa Clara 2016 Measure A Affordable Housing Bond.
Spread the word
PDF flyer coming soon to help you share with your neighbors!