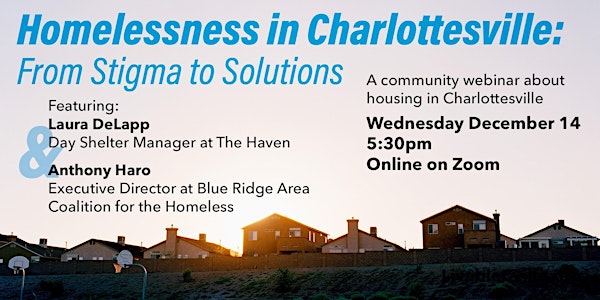 Homelessness in Charlottesville: From Stigma to Solutions
Join us to learn about homelessness, housing, and policy recommendations to address homelessness in Charlottesville.
About this event
Presented by Livable Cville
Homelessness in the Charlottesville area is often discussed—and, often misunderstood—with the consequence of perpetuating housing insecurity.
Join us for this educational talk on Homelessness in Charlottesville featuring
Laura DeLapp, Day Shelter Manager at The Haven
Anthony Haro, Executive Director at Blue Ridge Area Coalition for the Homeless
Learn from local experts to improve your understanding of the causes of homelessness, the people impacted by it, and solutions our community can achieve. The relationship of these issues to the Cville Plans Process will also be considered. A time for Q&A will allow for further reflection and discussion.