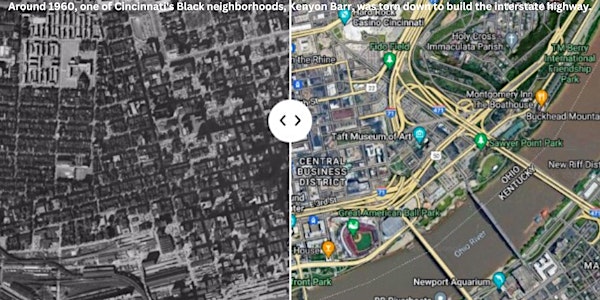 Homelessness, Displacement and Gentrification 101
Melissa Mosby shares her story of housing insecurity to help build empathy and solidarity across communities.
When and where
Location
Heritage UU Church 2710 Newtown Rd. Cincinnati, OH 45244-3511
About this event
Do you have a roof over your head? If you're reading this, you probably do. Do you ever wonder where all the black people who used to live in OTR moved to? Many of them struggled to find new housing or doubled up with family.
Consider these facts:*
In Cincinnati, we are short approximately 28,000 homes affordable to households with incomes at or below 30% of the Hamilton County area median income, or roughly minimum wage.
Thousands of households are currently living in affordable housing (rental & ownership) which is threatened with eventual closure because of inadequate maintenance or gentrification, unless there are funds to save them.
Each year, approximately 20% of children in Cincinnati Public Schools experience homelessness .
In 2017 more than 54% of the 27,725 Cincinnati households who reported being severely cost-burdened because they were spending more than half of their income for housing alone, were Black.
The affordable housing shortage is so dire that on an average day, most families with children who seek shelter are turned away because there is not enough room to accommodate every family loosing their home. Even so, in 2021, 25% of people in Cincinnati shelters were children.
GAPP and ACRU welcome Melissa Mosby from the Greater Cincinnati Homeless Coalition's speakers bureau for the first of a 3-part exploration of homelessness, displacement, and gentrification. These are complex issues but they effect real people...people who live in our communities and have the same dreams for themselves and their families as everyone does.
Together we'll unpack these issues and begin to learn the root issues, the current manifestations, and consider viable responses.
NOTE: Zoom link will be emailed 2 days before the event.
*Source: https://www.actionforhousingnow.com/