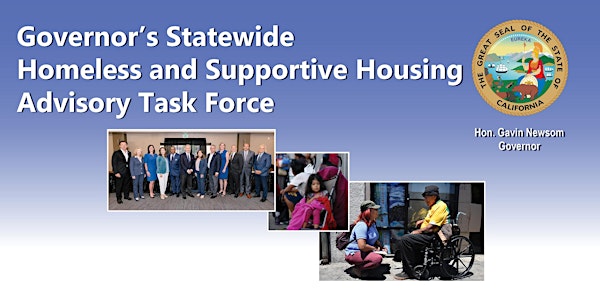 Homeless and Supportive Housing Advisory Task Force Meeting
Governor's Statewide Homeless and Supportive Housing Advisory Task Force Meeting
When and where
Location
King/Drew Magnet High School of Medicine and Science 1601 East 120th Street Los Angeles, CA 90059
About this event
Governor Gavin Newsom's Task Force on Homelessness will be coming to Los Angeles to discuss how to address the deepening crisis on our streets.
This is the second in a series of meetings being held around California to hear best practices and models of collaboration.
Homelessness is a matter of statewide concern most efficiently and effectively addressed at the local level through deep regional collaboration. The Task Force is consulting with local and regional governments around the state to assess best practices and strategies which will ultimately be used to guide the creation of joint regional plans to address homelessness.
WHAT'S HAPPENING
• Models of Collaboration
• Best Practices
• Taskforce Updates
WHAT HAS BEEN ACCOMPLISHED
• Recuperative Care
• Behavioral Health Center
• Psychiatric Urgent Care